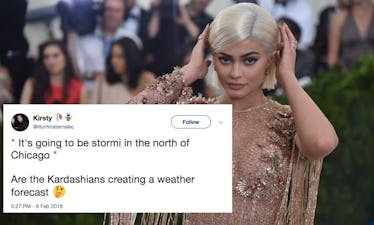 Twitter Can't Stop Laughing At Kylie Jenner & Kim Kardashian's Baby Names
Theo Wargo/Getty Images Entertainment/Getty Images
Stop whatever you're doing and listen up: Kylie Jenner finally revealed the name of her baby, and it's not probably not what you expected. Then again, it's kind of similar to Kim's daughter's name, so maybe you were expecting it. Either way, Twitter is already picking up on the similarities between the two names, and it's kind of hilarious. These tweets about Stormi and Chicago West will convince you that Kylie and Kim think alike.
After months and months of waiting for some sort of Kylie pregnancy update, the 20-year-old makeup guru confirmed the birth of her baby girl via Instagram on Sunday, Feb. 4. The Instagram posts explains why she's been keeping the pregnancy a secret — and TBH, it'll bring a tear to your eye. An excerpt from her post says,
I'm sorry for keeping you in the dark through all the assumptions. I understand you're used to me bringing you along on all my journeys. My pregnancy was one I chose not to do in front of the world. I knew for myself I needed to prepare for this role of a lifetime in the most positive, stress free, and healthy way I knew how. There was no gotcha moment, no big paid reveal I had planned. I knew my baby would feel every stress and every emotion so I chose to do it this way for my little life and our happiness.
While, yes, this Instagram was emotional AF, it left fans wondering about her baby girl's name. Kylie kept it a secret for a few days after her pregnancy, but announced on Feb. 6 that her daughter's name is Stormi. Yup, Stormi. It's simultaneously adorable and fierce... but there's one thing Twitter has been pointing out since her announcement, and it totally makes sense.
Everyone on Twitter is relating Stormi's name to Kim Kardashian's daughters' names, which are North and Chicago West. Think about it: Chicago is a state, "North" is a direction, and "Stormi" can be interpreted as a weather condition (as in, it's "stormy" outside). With that being said, everyone's feeling extra witty and decided to bring their weather-related tweets to the internet.
"It's going to be Stormi in the north of Chicago."
See what they did there?
"They got a whole forecast now."
Some people are bringing Kourtney's daughter, Reign, into the picture.
"Stormi with a bit of Reign in North West Chicago."
Others are making "Klimate Change" jokes.
Saint West is even featured in a few.
"It's gonna be Stormi in North Chicago tonight ya'll gonna need the luck of a Saint to save your chilly asses."
As you can see, people are having a lot of fun with this. Regardless of any of the connections Twitter is making between the siblings' name choices, you have to admit: Stormi is adorable.
So, what exactly does "Stormi" mean? If we're being literal here, it just means "stormy weather," according to Baby Center. However, as I mentioned before, I'm getting "fierce" vibes from the name — even though Twitter is distracting me with all of these weather comparisons.
Anyway, I can't help but wonder if Stormi will grow up to be like her name. Regardless, I'm sure she'll end up loving this video Kylie dedicated to her after her birth was announced. The video is called "To Our Daughter," and was posted to YouTube on Feb. 4. The documentary-style vid shows never-before-seen footage of Kylie's pregnancy, and it'll probably make you cry. The clips include Kylie's loved ones talking about her and her baby before the name "Stormi" was announced. After watching, I can already tell that Kylie's little girl will be showered with love.