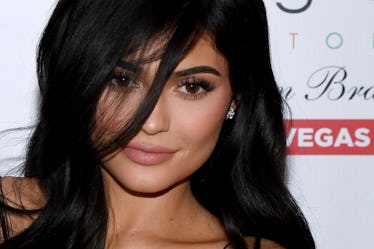 The Meaning Of Kylie Jenner's Baby Name Is Honestly So Perfect
Ethan Miller/Getty Images Entertainment/Getty Images
It was an incredibly long road. We were cruisin' down waiting for Kylie Jenner to either confirm or deny those pregnancy rumors that were floating around the Internet. And when I say "incredibly long," even that is a complete and utter understatement. It truly felt like eternity, and even our go-to playlists were starting to seem drab AF during this anxious journey. I'm sure many of you were thinking, "Kylie, you want to help a girl out and spill the tea already?!" Well, it was a very happy day to us all when the tea was officially spilled. Kylie Jenner has given birth to an adorable baby girl and we were naturally freaking TFO (and still are). Among many thoughts, emotions, and questions that are probably still racing through your mind, you may be wondering the meaning of Stormi, Kylie Jenner's baby's name.
First, let's rewind a bit. Kylie put all of our stresses to rest when she confirmed she had given birth to an adorable baby girl on Thursday, Feb. 1, 2018. The star took to Instagram on Feb. 4 to share a heartfelt, beautiful post with all of her fans about her pregnancy.
Jenner's post began with an apology, and detailed why she chose to not shine a bright spotlight on this time in her life:
I'm sorry for keeping you in the dark through all the assumptions. I understand you're used to me bringing you along on all my journeys. my pregnancy was one I chose not to do in front of the world. I knew for myself i needed to prepare for this role of a lifetime in the most positive, stress free, and healthy way i knew how. there was no gotcha moment, no big paid reveal i had planned. I knew my baby would feel every stress and every emotion so I chose to do it this way for my little life and our happiness.
She continued,
pregnancy has been the most beautiful, empowering, and life changing experience I've had in my entire life and I'm actually going to miss it. I appreciate my friends and especially my family for helping me make this special moment as private as we could. my beautiful and healthy baby girl arrived February 1st and i just couldn't wait to share this blessing. I've never felt love and happiness like this i could burst! Thank you for understanding.
The 20-year-old reality TV star also posted a YouTube video (which she teased a clip of on Instagram) that will give you all of the feels if you haven't seen it already. It's entitled, "To Our Daughter," and documents the star's pregnancy. The vid features Kylie's sweet baby belly, her friends, Travis Scott, and members of Kylie's family.
It definitely seems like Kylie is looping us all in on the exciting scoop now. Today, on Tuesday, Feb. 6, the star took to social media again to post the most adorable photo of her little munchkin, and officially announced her name — Stormi. This is the first picture Kylie has posted on Instagram of Stormi after she was born.
In the snap, baby Stormi's small hand is holding onto her mom's. Stormi is looking so flippin' cute dressed in a pink outfit, perfectly coordinating with Kylie's soft pink nail polish.
Get ready to instantly melt, people.
So, what is the meaning behind Kylie's baby girl's name? According to SheKnows.com, "Stormy" actually translates to "tempest," aka, a storm. The website goes on to describe people who are given the name Stormy to place a high value on a "stable, loving family or community."
Kim Kardashian West was quick to respond to Kylie's baby name debut by tweeting out a storm emoji on Twitter.
Well, there you have it, all. Baby Stormi is here and is certainly causing a social media storm with her immense amount of cuteness — and I don't know about you, but I am so excited to see more pics!