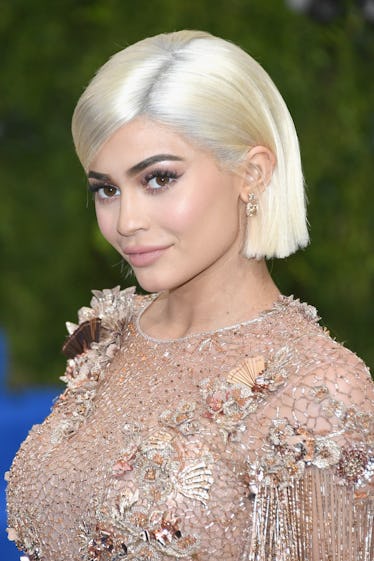 Kylie Jenner Just Shared A Photo Of Her Baby & It's So Precious
Dia Dipasupil/Getty Images Entertainment/Getty Images
Kylie Jenner may have made fans wait months for any information about her rumored pregnancy, but now she's sharing some intimate details about her new life as a mom and her baby girl. Kylie Jenner shared on Sunday, Feb. 1, that she welcomed a baby girl with boyfriend Travis Scott on Feb. 1, and now we have the first photo of Kylie Jenner's baby girl, Stormi, to finally see the bundle of joy.
News of Jenner's pregnancy first broke in September of 2017. While rumors swirled, Jenner and her family were sure to keep quiet about the rumor. During that time, Jenner slowly but surely disappeared from the spotlight, with Instagram posts lessening and creeping to a full halt at the end of 2017. It wasn't until February 2018 when fans finally got a post from the makeup mogul, and it was a huge one. Jenner's post read:
I'm sorry for keeping you in the dark through all the assumptions. I understand you're used to me bringing you along on all my journeys. My pregnancy was one I chose not to do in front of the world. I knew for myself I needed to prepare for this role of a lifetime in the most positive, stress free, and healthy way I knew how. There was no gotcha moment, no big reveal I had planned. I knew my baby would feel every stress and every emotion so I chose to do it this way for my little life and our happiness.
Pregnancy has been the most beautiful, empowering, and life changing experience I've had in my entire life and I'm actually going to miss it. I appreciate my friends and especially my family for helping me make this special moment as private as we could. My beautiful and healthy baby girl arrived February 1st and I just couldn't wait to share this blessing. I've never felt love and happiness like this I could burst! Thank you for understanding.
That's right: Jenner's daughter was born on Feb. 1, and both mom and baby are healthy. On Tuesday, Feb. 6, Kylie Jenner shared the first photo of her daughter Stormi and let me tell you, she's just as cute as you'd expect.
Look at that little hand! The photo shows Jenner's hand (decked out with perfectly pink nail polish) and little Stormi's hand holding her thumb. Stormi is wearing a pink onesie, and you can see her little nose and full lips in the top right corner of the photo. (Is it just me, or does baby Stormi already have a strong resemblance to her cousins, baby Dream and baby Chicago?!)
When Jenner first announced her pregnancy and the birth of her daughter just hours ahead of the Super Bowl, she accompanied it with an 11-minute video chronicling her pregnancy and fans completely lost it.
In the video, we see how Jenner spent the past nine months out of the spotlight. She accompanied Travis Scott on tour, she had a pajama party-themed baby shower with all her closest friends and relatives, and she got some In-N-Out (that immediately made me want to get on a plane to L.A. to eat some). We saw her ultrasound appointments and saw her family and Scott's family by her side.
We also got a tiny, tiny glimpse of Jenner and Scott's baby girl at the end of the video after Jenner gave birth. The shot showed Jenner holding her new bundle of joy, and you could see Stormi's arm and body. But now fans have the real first photo and she is seriously gorgeous.
Congratulations to Jenner, Scott, and their families on their newest little addition.