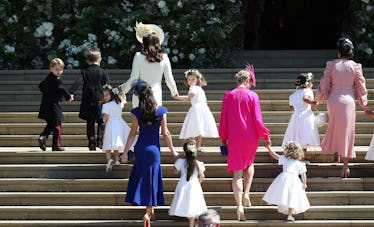 Princess Charlotte Completely Stole The Show At The Royal Wedding & Twitter Loved It
WPA Pool/Getty Images Entertainment/Getty Images
Prince Harry and Meghan Markle have had me crying all dang morning, people. The royal wedding took place on Saturday, May 19, after months of hype, and oh boy, did the royal family deliver. The internet can't handle how amazing the wedding has been, but one thing was very clear throughout the entire thing: People were as excited to see Princess Charlotte as they were to see Markle. Charlotte. Is. A. Star. These tweets about Princess Charlotte at the royal wedding show she's already gained the title of the people's princess.
Charlotte was one of 10 children included in Harry and Meghan's wedding party. The bridesmaids and page boys (who are traditionally children in English culture) were announced on Wednesday, May 16, in a statement on the royal family's official website. The statement said, "Prince Harry and Ms. Meghan Markle have chosen the following Bridesmaids and Page Boys for their wedding on Saturday 19th May," then went into the list of kiddos.
The bridesmaids were Princess Charlotte, Florence van Cutsem (Harry's goddaughter), Remi Litt (Meghan's goddaughter), Rylan Litt (Meghan's goddaughter), Ivy Mulroney (Jessica Mulroney's daughter), and Zalie Warren (Harry's goddaughter). The page boys were Prince George, Jasper Dyer (Harry's godson), Brian Mulroney (Jessica Mulroney's son), and John Mulroney (Jessica Mulroney's son). Jessica Mulroney is Markle's best friend and was rumored to be her maid of honor, but Markle chose not to have one.
But back to Princess Charlotte, the real star of any show. Here she is arriving with Kate Middleton and the rest of the wedding party.
They all looked adorable AF walking down the aisle of St. George's Chapel.
Twitter absolutely adores Princess Charlotte.
It wouldn't be a real royal event without Charlotte having a scene-stealing solo moment, and she delivered.
She also gave some excellent side eye in the car ride to the chapel. This is perhaps the biggest mood of all.
But there is another kid in the wedding party who has become one of the memes of the royal wedding. This kid:
Twitter can't get enough of him.
Lest we forget about Oprah!
Everyone on Twitter is super happy for the couple, including Meghan's former Suits co-star, Patrick J. Adams.
The night before the wedding, he tweeted,
Going to bed now and thinking a lot about the strange surreal and wonderful day my friend Meghan is going to have tomorrow. Meghan - wherever you are - we are so grateful to be here to watch you both take this monumental step together. Love deeply and live well. #RoyalWedding
His and Markle's characters got married on the recent season finale of Suits, marking their official exit from the show. After getting engaged, Markle decided to retire from acting and focus on her work as a member of the royal family, which entails lots of philanthropy work.
Markle walked herself down the aisle in a moment that made me whisper, "Yes, b*tcchhhhhhh" into my laptop screen.
Now let's look through some of the best photos from the wedding so far.
IS THIS EVEN REAL?!
George and Charlotte working their angles.
Harry, you good? (I love this photo so much.)
Yeah, he's good.
They're both very good.
Her official title may be the Duchess of Sussex and Princess Henry of Wales, but Meghan Markle is a damn queen today.
The ceremony was a stunning event filled with unforgettable moments, like when you could hear the crowd cheering after Harry and Markle said their "I dos." Now, the only thing left to do is watch as Harry and Markle do their processional through the town of Windsor and then pray they let us have a video of the performance the Spice Girls are reportedly going to do at the reception.
Anyways, Princess Charlotte 4ever.