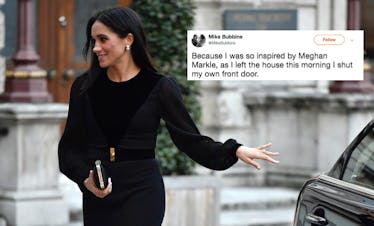 Twitter Absolutely Cannot Handle The Fact That Meghan Markle Closed Her Own Car Door
WPA Pool/Getty Images Entertainment/Getty Images
While it might not be earth-shattering news for us regular humans, Meghan Markle, the Duchess of Sussex, made a total ~power move~ on Tuesday, Sept. 25 and shut the door of the car she was exiting while arriving at the Royal Academy of Art in London for her very first solo outing. Now, if you're not a royal, this is something that is done daily without even thinking about it. It's complete and total muscle memory, because there is not a single soul who will be ushering your every move to open and close the doors you enter and exit. But this is Prince Harry's wife we're talking about, and so the fact that she just oh-so-casually shut the car door all by herself is enough for the internet to go absolutely wild. And these tweets about Meghan Markle closing her own door will fill you with complete joy (and also maybe a little envy, because why can't someone just applaud average people for doing average things?).
Let me first give you all the glorious deets: For Meghan Marke's first solo outing, she visited the Royal Academy of Art to see the exhibit "Oceania," which, according to People, featured "some 200 artifacts from Melanesia, Micronesia, and Polynesia, a huge ocean area encompassing New Guinea, Easter Island, Hawaii and New Zealand." Sounds pretty damn cool if you ask me.
She wore a "black Givenchy dress with billowing sheer sleeves" and her "go-to black pumps by Aquazzura," and she looked like a damn dream:
Trés chic, Meghan!
But the world was focused slightly less on the Duchess in all of her glory and more focused on her car door, which she shut her damn self:
You see that powerful push? Girl was determined to get that door shut without any help — meaning that she *sort of* broke royal protocol. But Meghan Markle hasn't exactly played by the royalty rules, and that's exactly why the world loves her so much.
You can watch the whole thing play out below:
And look, a royal shutting her own door when there are people around her who can and will clearly do the task is pretty admirable. It shows that, despite her royal title, she's still humble and independent.
But naturally, social media took the story and ran with it, joking about the very impressive things they've been doing throughout their day, and mocking the media's take on how huge this task was for a royal:
At the end of the day, I think Meghan Markle was just doing what she's instinctively done for the several decades that she wasn't a royal. Maybe the news coverage shouldn't be as explosive as it is, though, considering Kate Middleton has shut her own door as well, like the one time she visited the Action On Addiction Community Treatment Centre in February 2018:
Honestly, let's just give a round of applause for the royal women who are doin' it for themselves:
We love you, independent ladies!