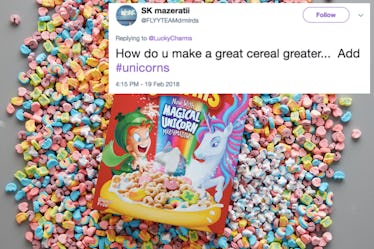 Lucky Charms Added A Unicorn Marshmallow & Twitter Is Feeling The Magic
Lucky Charms
A common motto while tackling that dreaded spring cleaning is, "out with the old, and in with the new." And, for Lucky Charms, that's totally the case. Although we were too devastated for words to wave goodbye to their hourglass 'mallow, we're ecstatic to welcome their new-and-improved replacement, which, as it turns out, is a unicorn. I am so excited to have a little colorful mythical friend grace my cereal bowl every morning, and the tweets about Lucky Charms' new unicorn marshmallow show that almost everyone else is feeling the magic, too.
The graceful AF unicorn marshmallow is going to be the first new permanent Lucky Charms addition in a decade, per Lucky Charms' press release. While the hourglass marshmallow will obviously be missed, there's no doubt in my mind that now is the perfect time for a change... and what better time for a Lucky Charms glow up could there be, than right before St. Patrick's Day? The new unicorn charm started rolling out in February 2018, and will be available nationwide in major stores this March. According to the press release, the unicorn is the first Lucky Charms 'mallow to have been inspired and created by kids — and it will debut not only in the original Lucky Charms flavor, but also in Chocolate Lucky Charms.
As expected, cereal eaters and unicorn fans alike are incredibly excited to welcome not just any marshmallow shape — but a unicorn — into the Lucky Charms 'mallow family. While each and every one of the other charms are beyond fantastic in their own ways, there's literally nothing better than an adorable and colorful unicorn. Decked out in white, purple, pink, and blue, the unicorn marshmallows are not only totally fun, but they are also reminiscent of the fairy tales we know and love — and the Twitter reactions show that everyone is going nuts over how adorable they are.
I am 100 percent feeling all of this positivity about the unicorn marshmallow, because there's really nothing better than a little bit of magic to brighten all of my breakfasts, snacks, and midnight nibbles. But, as usual, there are a bunch of super salty people out there in the Twitterverse who just can't seem to let themselves appreciate having some unicorns in their lives. Whether it's because of the concept (which is great), the taste, or because we're waving farewell to the hourglass, I personally don't understand being mad about the unicorn at all. In my opinion, you are all totally and utterly wrong. But, you do you, I guess. All of the haters are just missing out on a super magical experience, and that just means there's going to be more for me.
If you're looking for another spin on your fave marshmallow-y cereal, General Mills came out with a Lucky Charms Frosted Flakes medley earlier this year. Combining the deliciously sugar flakes from Frosted Flakes, and the 'mallows from Lucky Charms, it's a hybrid of my two fave cereal selections, and it definitely got a lot of hype from every '90s kid across the country. It was pretty much the best mash-up since Batman met Scooby Doo, so make sure you look up where you can buy it.
There's a good chance that the news of a unicorn marshmallow got you pretty excited, and TBH, I'm really craving Lucky Charms right now. Even though the hourglass was fantastic and will be missed, a unicorn is the little taste of magic that all of us have needed since, like, 2003. My inner child literally too happy RN. If you're lucky enough to find a box this month, enjoy it!