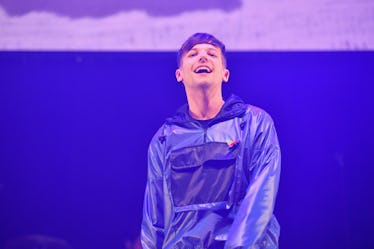 One Direction Fans Are Losing It Over The Royal Baby's Name & It's Hilarious
Anthony Devlin/Getty Images Entertainment/Getty Images
On the morning of April 27, fans of the royal family were so excited to hear that Kate Middleton and Prince William finally decided on a name for the new royal baby: Louis Arthur Charles. As expected, the name is getting attention from fans of British boy band, One Direction. In case you haven't already heard the buzz, these tweets about Louis Tomlinson and Prince Louis are hilarious.
If you think about it, London has been the hometown to several pop culture icons. Aside from The Beatles and David Beckham, though, both the royal family and One Direction emerged from there. So you could probably imagine that 1D fans were elated to hear that Middleton and Prince William chose to name their new baby Louis. For all of you non-Directioners, it happens to be the same name (and spelling) as 1D singer-songwriter, Louis Tomlinson. Is it a coincidence? I think not... but also, maybe it is. I really don't have a clue, and it's killing me, honestly.
Anyway, as you'd imagine, Twitter got pretty hyped about this wild connection. Although One Direction is basically royalty, two very different worlds have collided, and nobody knows what to do or think. As expected, the world of Twitter is totally and utterly shook, because many speculate that his name is an ode to Tomlinson (because why not name the royal baby after someone from 1D?).
OK, I'm going to be completely honest: I'm kind of hoping Middleton and Prince William did name their son after the One Direction musician. One can dream, right? If this does mean that members of the royal family are diehard 1D fans, maybe they can convince the band to get back together. I'm not hinting at anything, I am saying it could happen (in the most perfect of worlds, obviously). My fingers are crossed as we speak.
The royal baby's full name, Louis Arthur Charles, actually has substantial historical significance in relation to family tradition. Arthur is a Roman name, which means "nobel and courageous." It appears in the names of both his father and grandfather, and it's also the name of one of Queen Victoria's sons. The name Charles is in the name of of his grandfather, Prince Charles. There are so many name-related connections, and so little time. Who knew?
If you somehow managed to avoid all royal baby news, the birth of Louis Arthur Charles was officially announced by Kensington Palace on April 23 at 8 a.m. ET. Kensington Palace informed the eager public in a tweet, which said, "Her Royal Highness The Duchess of Cambridge was safely delivered of a son at 1101hrs. The baby weighs 8lbs 7oz. The Duke of Cambridge was present for the birth. Her Royal Highness and her child are both doing well."
The young prince's name was officially publicized the morning of April 27, when Kensington Palace announced,
The Duke and Duchess of Cambridge are delighted to announce that they have named their son Louis Arthur Charles. The baby will be known as His Royal Highness Prince Louis of Cambridge.
Twitter is exploding with loyal One Direction fans RN. They claim that the royal baby's name isn't — by any means — a coincidence, and who knows, maybe they're right. I wouldn't be surprised if the royal family enjoyed catchy pop music from time to time, and if they do, then Louis may actually be an ode to Louis Tomlinson. All I know definitively is if Middleton and Prince William are fans, then they really need to demand a 1D reunion. It might be up to them to finally bring the band back together, at long last.