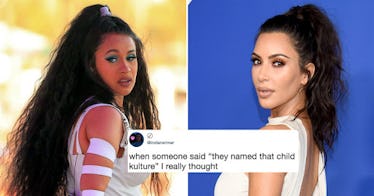 Twitter Can't Handle The Awkward Kardashian Connection In Cardi B's Baby's Name
Christopher Polk/Getty Images; Dimitrios Kambouris/Getty Images
This is not a drill, you guys! Cardi B just announced that her daughter with Migos rapper Offset finally arrived on July 10 with a very Beyoncé-ish post on her Instagram feed! Congrats, mama! Now, are y'all ready for the name? Because trust me when I tell you that it's all kinds of epic. The little girl's name is Kulture Kiari Cephus. With two Ks. And if that reminds you of a certain super-famous reality-TV-show family, well, then, you're not alone. Because Twitter seriously can't handle the Kardashian connection in Cardi B's baby's name, and the tweets about the whole thing are actually pretty hilarious!
I get that the Kardashians aren't the only celebrities with names that begin with the eleventh letter of the alphabet. There's Keegan Allen, K.J. Apa, Kristen Stewart, Krysten Ritter, Kristin Bell, Kylie Minogue, Katy Perry, Kaley Cuoco, Kesha, Kate Mara, Kate Hudson, and Kate Middleton... the list goes on. But the Kardashian fam has six female members that all rock K names — Kris, Kim, Kourtney, Khloé, Kendall, and Kylie — so it's only natural that fans would start to make the connection with little Baby Kulture and the Keeping Up crew (krew?).
See what I mean?
TBH, I'm actually down with the name Kulture. I think it's mad cute and I'm willing to bet it will totally start a new trend. I mean, Cardi doesn't have a standard-issue name, so why on earth would she give one to her firstborn child? Not only does the rapper go by "Cardi," "Bardi," and "Bacardi", but her given name is Belcalis Almanzar — pronounced Bel-ca-LEEZ Al-MAN-zar — and it's actually pretty beautiful. In fact, when I first found out Cardi was having a daughter, I wondered if she'd name her something similar. But now that she's given birth, I know she went in a totally different direction, and it's all, apparently, thanks to Migos.
See, Cardi revealed during an April appearance on The Ellen DeGeneres Show that she pretty much had zip to do with coming up with the name Kulture. "My dude named the baby," she told DeGeneres. "Imma let him say the name since he named the baby. It's, like, almost tricky but when it comes out, it's like, 'Ahh!'"
You know what? I totally get what she meant by that now, because Culture is the name of not one, but two of Migos' albums — and that's something else Twitter wasted no time picking up on.
Meanwhile, back in April, when Cardi wouldn't tell DeGeneres what she was planning to call her mini-me, the talk show host tried to bribe her with $20,000 to name the baby "Ellen."
"Can I put it as the middle name?" Cardi wanted to know.
Guess that didn't pan out, either!
DeGeneres then gifted Cardi with a pint-size copy of the black-and-white checkered outfit the singer wears on the cover of her new album, Invasion of Privacy. You have to watch the clip below to see it because it is seriously amazing.
Kulture Kiari Cephus, you are one lucky little girl!
And not gonna lie, I kind of think the whole name-your-kid-after-your-music thing is pretty brilliant. It's just so rockstar. Like, who doesn't want to be named after an album? I bet this is gonna start a major trend, too. And in about five or six years there's gonna be a whole bunch of kindergarten classrooms filled with kids named Scorpion, Sweetener, and Lemonade.
Sorry, Cardi, but I just don't think Gangsta B*tch Music would fly, you know?