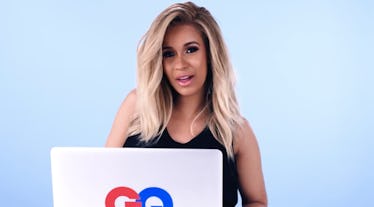 I Just Learned How To Pronounce Cardi B's Real Name & It's Honestly Gorgeous
GQ
Listen up, you guys — Cardi B went uncover for one of GQ's "Actually Me" videos, and the result is so hilarious you need to go watch it rightthisverynow. For real. She answers questions about her zany personality (not fake!), those weird sounds she makes, and whether or not she recommends stripping. I seriously learned so much about her! Like, she's not an alien, she never hits the gym, and she loved to strip to the Madonna song "Erotic" back in the day. But the best thing I learned from watching this vid is how to pronounce Cardi B's real name — and it's AH-MAZING!
"Hey what's up it's Cardi B. I'm going undercover on the internet, and this is actually me, okurr?" she says, opening up her laptop. "Let's see what this is about, lemme answer these questions." She starts off on Twitter, zipping through queries about hanging out with Migos, and whether or not she's actually human — plot twist: she is! Next, she rolls up to YouTube to tell fans she has "like 100 people working inside her brain," which somehow seems totally believable. Then she hits up Twitter again, this time to school us in the correct pronunciation of her name. Are you ready? It's Bel-ca-LEEZ Al-MAN-zar. And it's so mystical-sounding that one tweeter implied it actually sounded like a magic spell that caused his furniture to levitate.
Pretty funny. The tweet went viral back in January with 380,000 likes and 130,000 comments, and the original poster was just a tad worried about Cardi finding out about it. TBH, I kinda don't blame him, because I would legit be scared, too.
"Y'all better not tell Cardi about this tweet cause maybe she'll wanna fight and I'm not built for that sh*t," he wrote. "I'm a pacifist bro." Well, guess what, bro? Not only did Cardi find out about your little 140-character quip, but she responded to it. On video. For the whole world to see.
"Does my name sounds like a spell?" she asked as she typed out her tweet. "Belcalis Almanzar! Does it? I don't know, I guess. Whatever. I like my name. It's weird, and it's unique, and my dad made it up, so that's cool."
I couldn't agree more. You can watch the clapback in action at 3:44 in the clip below, but you should really watch the video in its entirety because I promise you it's THAT good.
See what I mean?
In case you missed it, Cardi's been on a roll lately. First, she dropped her new album, Invasion of Privacy, on April 6 to rave reviews. Then, she confirmed her pregnancy on Saturday Night Live on April 7, when she performed her second song of the night — "Be Careful" — in a fitted white dress. Check out the epic reveal that starts at around 2:36, and listen for the crowd going wild when they first spot the baby bump and realize Cardi is actually preggers.
I could watch that performance over and over again. Cardi later confirmed the big news that she's expecting a baby with her boyfriend, Migos rapper Offset, in a tweet early in the morning of April 8.
"I started winning when the whole world was doubting on me," she wrote. "Think imma lose with my little baby counting on me?"
Nope.
Offset also took to Twitter to confirm the pregnancy news, writing that he and Cardi are "looking forward to our next chapter together." No word yet on whether the couple is having a boy or a girl, but either way, I'm so here for a mini Bel-ca-LEEZ!