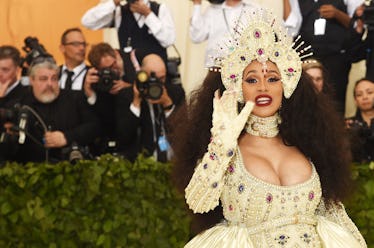 Cardi B Basically Just Named Her Daughter After A Migos Album & Twitter Is Losing It
Jamie McCarthy/Getty Images Entertainment/Getty Images
Since Cardi B announced her pregnancy on Saturday Night Live in April, the world has been patiently waiting and wondering what the rapper would name her baby girl. Cardi B's daughter made her debut into the world on Wednesday, July 10, and it seems she's named the little girl after Migos' album. These tweets about Kulture & Migos show Cardi B fans are absolutely losing it.
This is Cardi B's first child with her fiancé, Offset. For those not familiar, he's a member of the hip-hop group Migos. Cardi B took to Instagram to announce the name of her new bundle of joy in a Beyoncé-esque picture. Cardi B and Offset named their daughter Kulture Kiari Cephus. No surprise here, but it sure does appear that two of the most recent Migos' album Culture and Culture II served as the inspiration for the newborn's name. However, the rap couple duo seemed to have added a bit of a twist and went with a "K" instead of a "C" to create the name "Kulture." Twitter users can't seem to settle on how they feel about it, but nonetheless, they are having a field day with the little girl's name. Check out the tweets below.
A few weeks after revealing the big news on SNL, Cardi B hinted to The New York Times that her impending bundle of joy just might be a baby girl prior to attending the Met Gala in New York City in May. Well, now she's here, and Twitter just can't get enough of the fact that Kulture is named after two Migos' albums. In April, Cardi B told Ellen Degeneres that Offset was behind the baby's name. Although, at the time, we didn't know she was going to be named after the rap groups Culture and Culture II records.
"My dude named the baby," she said on The Ellen Show. "I really like the name."
I think it is safe to say that Kulture, while only a day old, is already shaping up to be a daddy's girl.
I've got to hand it to Cardi B and Offset, though. Naming your child after two of your most popular albums is a genius move. Culture, which was released in 2017, earned the group their first No. 1 album on the Billboard 200 chart, according to Billboard. The groups follow up album, Culture II, also landed swiftly in the No. 1 spot on Billboard's 200 chart. TBH, it's an honor to name your kid after two best-selling records. I don't care what Twitter says, Kulture Kiari Cephus is No. 1 in my book — album(s) or not.
It's been a big year for the couple. On June 25, TMZ revealed that Cardi B and Offset secretly tied the knot in September 2017. The award-winning rapper took to Twitter to confirm the marriage. The two kept their relationship hush-hush from the beginning, but were caught holding hands at the Super Bowl in February 2017. Cardi B and Offset have collaborated on several songs in the past including "Lick" and "Um Yea." Now, they get to collaborate on parenthood as mom and dad.
Honestly, I wouldn't be surprised if they get back in the studio together and record a song about their beautiful baby girl. With a name like Kulture, this little girl is already destined to become a superstar. Given the history of her name (and her famous parents), titling a song after her seems like an obvious move. I'd listen to it.
I'm super happy for Cardi B and Offset, and I think Kulture is the perfect addition to their famous family. Plus, I have to admire their dedication to their music.