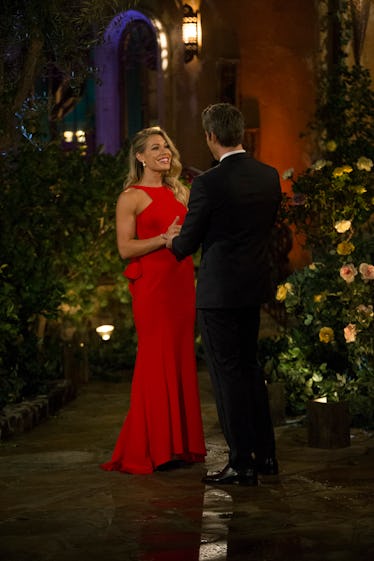 Krystal Finally Had Her 2-On-1 Date On 'The Bachelor' & Fans Were Ready For It
Paris might be the city of love, but tonight on The Bachelor it was the city of disappointment. Krystal anticipated that "destiny" was going to happen , though her fate probably didn't go in the direction she was hoping. It happened, guys. After a tense two-on-one with Kendall, Arie sent Krystal packing. And these tweets about Krystal leaving show that Bachelor Nation has some thoughts when it came to her dramatic exit.
What a long, strange trip — or should we say maze? — this has been. We wouldn't exactly call Krystal a fan favorite. Sadly, the LA trainer became this season's designated villain thus far, especially after her bowling group date mini-meltdown last week. It was only a matter of time before she got stuck on a two-on-one with someone she had a tumultuous past with. This series is practically down to a scientific formula at this point. Enter taxidermy enthusiast Kendall, who previously called her out for her behavior. "Krystal and Kendall are so different," Arie noted prior to the big date. "If I see that same side I saw of Krystal in Fort Lauderdale it will make this decision really easy. This is her last chance." Welp, he made his decision alright.
"How boring are the other relationships compared to mine?" Krystal said. Hmm. She might have a point with that one... The woman definitely keeps things interesting. But drama doesn't equal romance, and Arie finally seemed fed up with her behavior. Especially considering she used the old talking-about-another-girl's-intentions move. "I think Krystal definitely has some kind of plan," Tia speculated. Ding! Ding! Ding! Cue Krystal revealing to Arie that Kendall isn't "ready to emotionally commit" or something. Nope.
It's a tale as old as Bachelor time and it never ends well. Krystal went ahead and told Arie that she didn't think Kendall had ever been in love and she wasn't sure if she was open to falling in love or in a position to actually get married. And while there may have been moment between them there where things were all good again — he said he was happy she was "sincerely apologetic" about her actions, they kissed, things were cool — that wasn't enough to keep her around.
"I love my conversation with Arie. It felt like I was just working through a challenge with my boyfriend. I just felt so connected with him. I feel like Arie and I had a fresh start," Krystal said.
OK, we admittedly were on the edge of our seats at that point. Bekah even made a funny about how shocked she would be if Krystal came home: "No one thought Trump was going to win the election either, but here we are!" Honestly, Bekah's humor is very much winning us over week after week. But this was not a Trump-like surprise. Krystal did not get the rose.
"It's always hard to say goodbye but it's especially hard to say bye to you," Arie let her down. Krystal herself said she was "floored" and questioned if Arie even wanted a "strong, confident" woman.
Here's the thing. No one can steal Krystal's sparkle, according her latest Instagram post.
The fitness coach has been doing her thing on social media lately — filling her feed with positivity, motivation, and even a strong message standing up against bullying. She also shared a cute behind-the-scenes pic of her and some of the other Bach-testants chilling with smiles all around.
No matter what you think of how her actions came off on camera, it's hard to deny it: Krystal spiced things up. We can't help but wonder if we've seen the last of her in the Bachelor-verse. *Frantically looks at calendar to figure out when the next season of Bachelor in Paradise might be on*