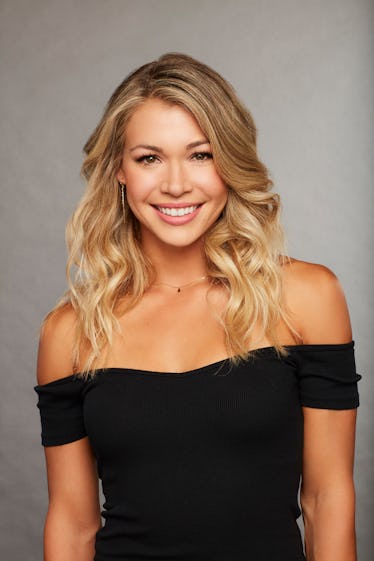 Krystal From 'The Bachelor' Instagrammed A Serious Caption About Bullying Following The Drama
ABC/Chris Sjodin
Listen up, #BachelorNation. Krystal from The Bachelor is standing up for herself on social media and declaring that she's above any negativity surrounding her. The polarizing contestant has received a lot of attention throughout Season 22, but now she's taking a page from the Olivia Caridi handbook and speaking out about bullying. The Cali fitness coach took to Instagram last week to show that she's not afraid to speak her mind and open up about what she believes in. Part of Krystal's post read,
As tough as it was at times filming the show, I'm so thankful for the experience because it's allowed me to grow. I'm learning to take the good with the bad and becoming stronger as a result. I was humbled and thankful for the support that @oliviacaridi and some of my followers showed by taking a stand against bullying. I choose to stand up and say that negative words do not have power over me. I will not be a victim and I will not bully back. #notme
Krystal's behavior on The Bachelor has been the topic of #BachelorNation discussion for the past few episodes, as she's been at the center of drama with other women in the mansion. On last week's episode, she stopped the rose ceremony before it commenced, making one last ditch effort to get as much time with Arie as possible. Of course, that move didn't go over well with the other ladies. And from the looks of the promo for next Monday's installment, it appears that the tension will only amplify as time goes on.
But just because there's chatter surrounding her actions doesn't mean she has to let it affect her. Olivia Caridi (who Krystal mentioned in her post) from Ben Higgins' season is an example of a Bachelor alum who called out bullying following her unforgettable stint on the show. You may remember the controversial contestant shook things up with the other women due to her confidence, which some perceived as arrogance, and it rubbed people the wrong way. Think twice before sending an insensitive message. "Words hurt, and they kill, too. Don't be mean behind the screen. #AntiBullyingMonth," she said in an Instagram caption in February 2016.
"I cried every day for a long time, it was weird. I kinda got desensitized to the comments almost, like I looked at 'You're a b word' and I thought 'Oh what a great morning,'" she revealed to HerCampus after her experience.
Listen, the Bachelor mansion and reality TV in general can be a rough road. There are constant tears, heartache is always around the corner, and vocal haters are inevitable. But even though Krystal is dealing with drama on screen, her Instagram is filled with wellness, inspiration, and positivity.
And just because there are personal issues brewing between the women competing on Season 22 doesn't mean that Arie, of all people, actually takes them to heart. Luyendyk Jr. admitted to Variety prior to the show's premiere that what happens in the mansion outside of his perception might not necessarily bear on his decisions:
I really try to concentrate on my time with that individual. I think that as a Bachelor, you really don't see what's happening in the house. You really only hear kind of through the women telling you sort of what drama is unfolding. So, for me, I try to cast aside and really give this person in front of me the benefit of a doubt because it is a difficult experience. It's not an experience everyone handles the same. And just because they're popular in the house doesn't really make them a good life partner.
No matter where Krystal's Bachelor journey leads, it seems as though she's already learned some lessons along the way.