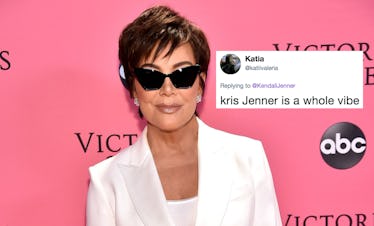 Kris Jenner Was The Most Hilarious Proud Mom At The Victoria's Secret Fashion Show
Theo Wargo/Getty Images Entertainment/Getty Images
You've gotta respect any woman who won't take her sunglasses off indoors. Actually, let me rephrase that. You've gotta respect Kris Jenner, — no matter what she does — period. The woman is a legend, icon, business tycoon, and the OG "momager." She runs her family like a business and her business like a family, and I've got nothing but respect for her famous 10 percent fee. Naturally, when she popped up at the 2018 Victoria Secret Fashion Show to watch her daughter Kendall walk the runway, people paid attention. These tweets about Kris Jenner at the 2018 Victoria's Secret Fashion Show are hilarious and so much fun to read.
Say what you want about Kris, but the woman knows how to keep things moving. If you really look back at everything she's been through, you can't deny her ability to evolve, transform, and make lemonade out of lemons. (Or, should I say lemons out of her family's never-ending drama?) When she stepped out on the pink carpet the night of the VSFS taping, I should have known fans were in for a treat. She arrived in a stark white pantsuit, cat-eye sunnies, a fluffy Chanel bag, and diamonds, honey.
Jenner shmoozed with Kenny and some of the other Angels backstage, but never once took her sunglasses off. My assumption is the shades were the only thing protecting the VSFS audience from burning into diamond dust if they were accidentally grazed by Jenner's superpower gaze.
Please look at this woman:
Get real.
During the show, Jenner was caught enthusiastically filming and waving at Kendall as she strutted by in her wings. Jenner never entirely loses her cool, but she was certainly close this night. Even Kendall shared the video of her mom and captioned it, "lmao love you mom."
Twitter was also living for the moment.
Of course, Kendall wasn't able to enthusiastically wave back because she was busy stomping the runway.
Kenny stunned in a few epic looks, but was particularly fierce in her black ensemble which warranted Kris' big response.
The high collar. The star wings. The feathers. The lace. I'd geek out if I was Kris Jenner, too.
To say Kris is ending 2018 with a bang is the understatement of the year. You'll notice everyone on Twitter was referencing Jenner as a "cool mom" thanks to her attitude towards her children and her spin on Amy Poehler's character from the movie Mean Girls in Ariana Grande's "Thank U, Next" video. Jenner also popped up in John Legend and Chrissy Teigen's A Legendary Christmas Special where she, once again, leaned into her famous momager reputation. In fact, she jokingly asked Teigen to sign a contract stating Kris would officially become her mom, too.
Hey, at least she knows what she's putting out there, right?
At the end of the day, I strive to give as little effs as Kris and have as many famous children. It looks like a hell of a lot of fun from here.