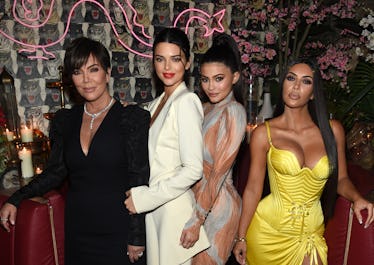 Only One Kardashian Was At The Victoria's Secret Fashion Show To Support Kendall Jenner
Dimitrios Kambouris/Getty Images Entertainment/Getty Images
The annual Victoria's Secret Fashion Show is finally here. The show, which was recorded in New York City on Thursday, Nov. 8, is airing on TV and online Sunday, Dec. 2. With performances from Halsey and appearances from Kendall Jenner, Elsa Hosk, Winnie Harlow, and more, fans of the annual show are pumped to see what the lingerie line has in store for this year's extravaganza. With Kendall Jenner walking in the show this year, some fans were surprised to learn only one member of the KarJenner family made it out to the show. So, why weren't the Kardashians at the 2018 Victoria's Secret Fashion Show?
Well, chances are Kendall's siblings were just busy, to be honest. Because why would they want to miss such a momentous occasion? The show is famously private and guards the models' various looks (other than the fantasy bra, which is being modeled by Elsa Hosk this year) from the public leading up to the show. I can only guess all of Kendall's siblings would have been there if they could. But with their intense schedules and the fact that most of them are based in Los Angeles, it's understandable if they couldn't make the taping in NYC.
So, who was there to support Kendall Jenner as she walked down the runway? You bet your rhinestone babydoll it was momager Kris Jenner, along with her boyfriend, Corey Gamble. They sat in the audience to root for Kendall.
Kris even made it backstage at one point.
Let me tell you, Kendall Jenner looked like a damn dream walking down that runway, so there's no doubt that Kris Jenner was beyond proud of her daughter:
I mean, really, can we just talk about how fierce she looked this year?
Work it, girl.
The last time Kendall Jenner walked in the show was in 2016. Kris Jenner was there to represent the fam then, too.
The fashion show has been a topic on Keeping Up With The Kardashians in the past, as well.
Leading up to the 2016 show, Kendall got into a big fight with Caitlyn Jenner that resulted in Kendall disinviting Caitlyn from attending.
Caitlyn had apparently revealed she was attending the show, which pretty much guaranteed that Kendall was walking in the show, and it turned into a big story that took the spotlight away from Victoria's Secret (and Jenner).
"I'm very mad at you about something, so...," Jenner told Caitlyn over the phone in the clip posted in 2016. "Did you publicly, did you have your publicist announce that you were going? Because I don't know how everyone knows, and now it's a huge story, and I'm actually p*ssed at you. OK, well then you knew that was gonna happen and that's so annoying. OK, well then I don't want you to go."
Jenner explained,
A lot of people assume that I get jobs from my family, but it's actually kind of the opposite. It made me have to work even harder to get what I wanted, so I get scared that if my dad goes, that's kind of a media frenzy. And now it's kind of all blowing up.
"You're gonna take the biggest night of my life and take it away from me?" she continued. "Thank you. No, you can't! You can come to the f*cking after-party. You can't come."
Eesh. Well, hopefully there was less ~drama~ this year for Kendall. No matter what, though, she totally crushed it.