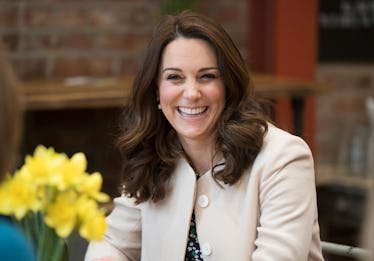 Kate Middleton & Prince William Welcomed Their Third Child & Twitter Is So Excited
WPA Pool/Getty Images Entertainment/Getty Images
Kate Middleton is a mother of three! The royal gave birth to a baby boy on April 23, and fans of the royal family are eagerly waiting to learn the little prince's name. The tweets about Kate Middleton giving birth show just how much we're all obsessed with the royal family, and just how excited the internet is at the prospect of seeing the baby at Prince Harry and Meghan Markle's wedding on May 19.
On the morning of April 23, Kensington Palace tweeted, "Her Royal Highness The Duchess of Cambridge was safely delivered of a son at 1101hrs. The baby weighs 8lbs 7oz. The Duke of Cambridge was present for the birth. Her Royal Highness and her child are both doing well."
Middleton gave birth at St. Mary's Hospital in London, where her first son, George, was born in 2013 and where her daughter, Charlotte, was born in 2015. Her due date was also reportedly April 23, according to People. On Wednesday, March 27, People reported that St. Mary's Hospital was preparing for the arrival of the royal baby by painting the gates outside the entryway where Prince William and Kate Middleton debuted both of their children in the past.
The steps of this entryway is also where Prince William and Prince Harry were debuted by Princess Diana when they were born, and if Prince Harry and Meghan Markle have children, it's possible the couple will choose to debut their children on the steps of St. Mary's Hospital, as well!
Fans are so excited to welcome Prince George's and Princess Charlotte's baby brother into the world.
The royal family announced Middleton's third pregnancy on Monday, Sept. 4, 2017.
The announcement from Kensington Palace read,
Their Royal Highnesses The Duke and Duchess of Cambridge are very pleased to announce that The Duchess of Cambridge is expecting their third child. The Queen and members of both families are delighted with the news. As with her previous two pregnancies, The Duchess is suffering from Hyperemesis Gravidarum. Her Royal Highness will no longer carry out her planned engagement at the Hornsey Road Children's Centre in London today. The Duchess is being cared for at Kensington Palace.
Hyperemesis gravidarum is a severe form of morning sickness that Middleton suffered through both of her previous pregnancies. According to the American Pregnancy Association, the symptoms of hyperemesis gravidarum only last until about week 20 of a woman's pregnancy, so hopefully Middleton found some relief at that mark.
Now that Prince William and Kate Middleton have welcomed their third child, the next royal event we have to look forward to is Prince Harry and Meghan Markle's wedding in May!
Harry: Life, Loss, and Love author Katie Nicholl told Entertainment Tonight that Harry is ready to be a dad. "My sources are saying that Prince Harry, particularly, is very keen to start a family, pretty soon after the royal wedding," she said. "He's made no secret about wanting children." Nicholl said that Harry really wanted Meghan to meet Prince George and Princess Charlotte so he could show her how normal the family really is despite their royal status. "The reason he wanted Meghan to meet Prince George and Princess Charlotte," she said, "was so she could see that — this would be hopefully replicated by them, that they would go on to have children. Nicholl continued, "That you marry into the royal family, but that doesn't mean you can't have a regular family with cute children, and here are George and Charlotte to show that that can happen. That was really important to him." Be still, my beating heart!
It's not clear if Prince Harry and Meghan Markle have met their new nephew yet, but I, for one, can't wait to see pictures of the entire family together at Prince Harry and Meghan Markle's wedding come May 19. Congrats to Prince William and Kate Middleton on their tiny bundle of joy!