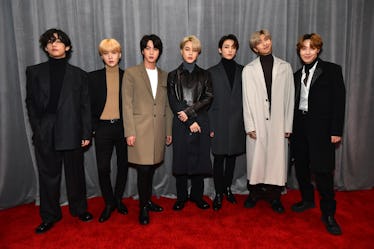 ARMYs Are Losing It Over BTS' Jimin's Long Hair At The Grammys
Emma McIntyre/Getty Images Entertainment/Getty Images
The Grammy Awards red carpet was absolutely full of superstars on Sunday, Jan. 26, but once BTS arrived, it was clear all eyes were on the K-Pop boy band sensation. As per usual for the hair-shifting group, the boys' hairstyles made a massive splash — and ARMYs couldn't help but freak out over one member's new 'do in particular. These tweets about Jimin's long hair at the Grammys feature fans hyping the new look. For ARMYs, his long blonde locks totally stole the show.
For superfans of BTS, the ever-changing hairstyles of Jin, Suga, J-Hope, RM, Jimin, V, and Jungkook are always a huge deal, so, of course, the boy band had to show up with a surprise new look for the Grammys. This time, the spotlight was definitely on Jimin, who debuted long, blonde bands on the red carpet. Paired with his black leather duster and charcoal turtleneck, the look was so severe and so high-fashion.
Less than two months before sporting new long locks, Jimin was rocking a more cropped look at the KIIS-FM Jingle Ball on Dec. 6, 2019. So, fans were definitely surprised to see the K-Pop star with the slightly longer shaggy 'do on Grammy night.
The new hairdo came as an extra-special surprise for ARMYs since Jimin had just debuted shaggy silver hair a few days before music's biggest night. Even more recently, a photo of Jimin sporting a tiny ponytail during dance rehearsals also sent fans into a tailspin. That pic was in black-and-white, though, which makes it impossible to tell if he was still rocking his silver hair at that time, or if he had already gone blonde.
Whenever this bold new hairdo happened, it totally stole the show during the Grammys red carpet on Sunday night. ARMYs immediately took notice when BTS made their big arrival on music's biggest night, and the reactions to Jimin's hair during the group's interview with Ryan Seacrest during E!'s pre-show were major. Check out all the best tweets about the new hairstyle:
Sadly, BTS was not nominated for any awards at the Grammys this year, but ARMYS still tuned in to see the group perform "Old Town Road" with Lil Nas X, Billy Ray Cyrus, Diplo, and Mason Ramsey. The performance was announced to include all of the featured artists on the hit song's various remixes, which includes RM's feature on "Seoul Town Road."
A video of the rehearsals for the performance had some fans worried the day before the Grammys, since it appeared that BTS may not have much to do in the performance, but many fans also guessed the group may do a surprise "Black Swan" performance. Whatever the case, at least ARMYs were blessed with a fresh Jimin look.