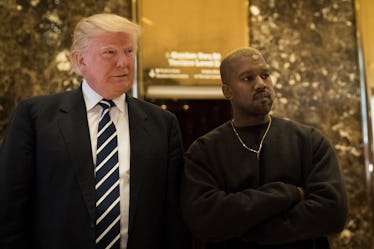 Twitter Is So Baffled By Kanye West's Bizarre Monologue In His Meeting With Trump
Drew Angerer/Getty Images News/Getty Images
You've heard of the phrase "ladies who lunch." Well, picture that, but featuring two very problematic men. The blossoming bromance between a certain hip-hop icon and certain world leader has been blowing everyone's minds recently, and these tweets about Donald Trump and Kanye West's meeting in the Oval Office proves it. Oh 2018, will you ever calm down?
On Thursday, Oct. 11, Kanye West and Donald Trump met in the White House Oval Office to discuss a myriad of... interesting topics. At first it seemed that the focus would be on addressing the criminal justice system, unemployment, and crime in Chicago, but things took a serious turn later during the discussion. Not only did West and Trump exchange hugs, but they even discussed the possibility of West running for president after 2024. But wait, there's more. The rapper then proceeded to introduce his idea of a hydrogen-powered airplane that Apple should create to replace Air Force One. Seriously, you can't make this stuff up.
A meeting like this is sure to go down in history, for better or worse. Naturally once Twitter got a taste of West's lengthy monologue directed towards Trump, everyone was equally baffled.
Even before the meeting, Twitter had a lot of opinions about this interaction, and what exactly would be discussed. How quaint it all looks now.
The unlikely friendship between West and Trump has been a topic of discussion for a while, but on Monday, Oct. 8, The New York Times reported that West would be visiting the White House to meet with Trump on Thursday, Oct. 11. As of recently, West has been facing huge backlash from the public due to his support of Trump, who he has publicly endorsed on social media and even on Saturday Night Live. According to The Times, West and Trump planned to discuss increasing job opportunities for former convicts as well as manufacturing positions for Chicago, IL residents. White House Press Secretary Sarah Huckabee Sanders confirmed the meeting on Tuesday, Oct. 9. She said,
Kanye West is coming to the White House to have lunch with President Trump and he will also meet with Jared Kushner. Topics of discussions will include manufacturing resurgence in America, prison reform, how to prevent gang violence, and what can be done to reduce violence in Chicago.
I have no doubt Sanders and the Trump administration planned an agenda for this meeting, but clearly Trump and West had other plans.
Ironically enough, this won't be the first member of the West family to grace the White House. West's wife Kim Kardashian-West has met with Trump at the White House on two occasions to discuss prison reform. The first concerned Alice Marie Johnson, a a 63-year-old woman who was serving a life sentence in federal prison for a non-violent drug-related crime. Kardashian-West met with Trump in May to advocate for clemency for Johnson, which Trump granted a few days later. So, clearly that meeting between Kardashian-West and Trump went well, but West and Trump's relationship is a bit more on the controversial side.
In December 2016, just a month after Trump secured his presidency, West and Trump met at Trump Tower in New York to discuss violence in his hometown Chicago, IL. The initial meeting caused controversy among the public, but it was West's April Twitter rant supporting Trump that escalated much more. Then, on Saturday, Sept. 30, West appeared on Saturday Night Live sporting Trump's signature "Make America Great Again" hat. To little surprise, West's recent Trump-love fest has been extremely well received by the president himself. Following West's appearance on SNL Trump took to Twitter to praise the rapper for his support (and throw some shade at the sketch comedy show).
So basically, this most recent love-fest between the two isn't exactly out of place. Can you blame West for getting into it? Hey, at least he was having a good time.