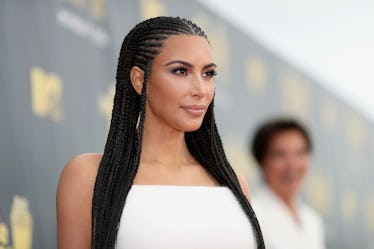 Kim Kardashian Is Back At The White House For An Important Reason
Christopher Polk/Getty Images Entertainment/Getty Images
While we're all keeping up with the ongoing White House drama, it looks like there's a new face fighting to make some positive change actually happen. Following her previous visit with President Donald Trump in May, Kim Kardashian's meeting at the White House on Sept. 5 tackled prison reform yet again. At least there's some positive news amid this chaos.
On Sept. 5, Politico reported that reality television icon Kim Kardashian was visiting the White House to meet with various Trump administration staffers and other criminal justice advocates to discuss the important topic of prison reform. Kardashian was joined by the likes of senior adviser Jared Kushner, CNN commentator Van Jones, and Deputy Press Secretary Hogan Gidley, as well as Federalist Society Executive Vice President Leonard Leo. According to a statement from Gidely, the group planned to discuss criminal justice reform in general, but the clemency process would be the main focus of their conversation.
"The discussion is mainly focused on ways to improve that process to ensure deserving cases receive a fair review," Gidely said in the statement on Sept. 5.
In a tweet after the meeting, Kardashian shared photos of the sit-down. She wrote,
It started with Ms. Alice, but looking at her and seeing the faces and learning the stories of the men and women I've met inside prisons I knew I couldn't stop at just one. It's time for REAL systemic change
Kardashian's tweet referenced the initial reason she became interested in criminal justice reform: the pardoning of Alice Marie Johnson, a a 63-year-old woman who was serving a life sentence in federal prison for a non-violent drug-related crime. Back in May, she met with Trump and advisers at the White House to advocate for clemency for Johnson. Even though the May meeting sparked some public controversy, Kardashian thanked Trump for his time via a tweet on May 30. She wrote,
I would like to thank President Trump for his time this afternoon. It is our hope that the President will grant clemency to Ms. Alice Marie Johnson who is serving a life sentence for a first-time, non-violent drug offense.
The next day, Kardashian spoke to Mic about the famous meeting, and how she felt that Trump really listened to her argument.
"I think that he really spent the time to listen to our case that we were making for Alice," Kardashian told Mic. "He really understood, and I am very hopeful that this will turn out really positively."
Well, clearly Kardashian got through to Trump, because on June 6, Trump decided to grant Johnson clemency and immediately commuted her sentence. Another win for change.
According to Page Six, Kardashian now plans to take on another clemency case, this time involving Chris Young, a young man who was sentenced to life in prison for marijuana and cocaine possession in 2010. On Sept. 5, Kardashian appeared on American music executive Jason Flom's Wrongful Conviction podcast, which focuses on criminal justice reform. During the podcast, Kardashian spoke to Flom about Young's case, and how it's an example of the change that needs to happen in regards to prison reform.
"Yesterday, I had a call with a gentleman that's in prison for a drug case — got life. It's so unfair. He's 30 years old. He's been in for almost 10 years," Kardashian told Flom.
Clearly Johnson's case has awakened the Kardashian mogul's interest in activism, and for good reason.
We may never have thought that there would come a day where two reality television stars would come together for prison reform, but 2018 continues to surprise us. Keep up the good work, Kim.