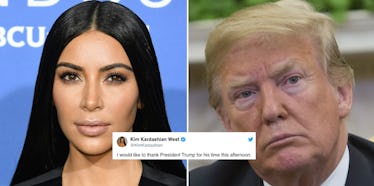 Kim Kardashian Got Real About Why She Met With Trump At The White House
Dia Dipasupil/Chris Kleponis - Pool/Getty Images/Twitter
Kim Kardashian met with President Trump at the White House on Wednesday, May 30, much to the surprise of... everyone. Everyone was surprised. She reportedly had the meeting scheduled with Trump and Jared Kushner to discuss prison reform on behalf of a woman who is "serving a life sentence for a first-time, non-violent drug offense." Kim Kardashian's tweet about meeting with Trump cleared things up a bit more for people who were confused about why Kardashian was at the White House to talk about prison reform with the president.
The woman Kardashian is advocating for is Alice Johnson, a 63-year-old who has been in prison for two decades as part of a life sentence. According to The Tennessean, Johnson was convicted back in 1997 for her role in "leading a multimillion-dollar drug ring that dealt in tons of cocaine from 1991-94." In 2016, Johnson wrote an article for CNN, saying,
I want this part to be clear: I acknowledge that I have done wrong. I made the biggest mistake of my life to make ends meet and got involved with people selling drugs. This was a road I never dreamed of venturing down. I became what is called a telephone mule, passing messages between the distributors and sellers. I participated in a drug conspiracy and I was wrong.
Kardashian first learned of Johnson's story on Twitter in October of 2017, and she apparently has been trying to find ways to help Johnson ever since. She first saw a video Mic made profiling Johnson on Twitter, and on Oct. 25, 2017, tweeted the video and said, "This is so unfair..." Fast forward seven months, and Kardashian is in the White House advocating for Johnson to be granted clemency.
Kardashian tweeted about her meeting with Trump a couple of hours after the meeting went down. She said,
I would like to thank President Trump for his time this afternoon. It is our hope that the President will grant clemency to Ms. Alice Marie Johnson who is serving a life sentence for a first-time, non-violent drug offense.
Earlier that day, Kardashian tweeted birthday wishes to Johnson.
She said, "Happy Birthday Alice Marie Johnson. Today is for you."
Following her tweet thanking Trump, Kardashian hinted that the meeting went well.
She said, "We are optimistic about Ms. Johnson's future and hopeful that she —and so many like her—will get a second chance at life."
Trump also tweeted a photo of him and Kardashian in the Oval Office.
He said, "Great meeting with @KimKardashian today, talked about prison reform and sentencing." Kardashian was seen at Ivanka Trump and Jared Kushner's house after the meeting. They reportedly had dinner at the couple's home in DC.
Some people are still confused why Kardashian felt she was equipped to advocate for prison reform. When the reports of her meeting with Trump first released just a few hours before the meeting occurred, people on Twitter were scratching their heads wondering why this meeting was happening. Kardashian's tweet about Johnson made things more clear.
Kardashian first learned of Johnson's plight in October of 2017.
She tweeted a video about Johnson and said, "This is so unfair..." She apparently started advocating for Johnson around that time to help her get out of prison.
Kardashian posted a photo from the White House to her Instagram story in honor of Johnson's birthday.
She also posted a screenshot of a letter Johnson sent to her to her Instagram story not long after the meeting. It's not clear when the letter was written/sent, but it says in part, "I am so humbled by what you are doing have already done on my behalf. When I spoke with Attorney Shawn Holley and disclosed the name of my benefactor, I had to take time to process and digest the news that you were the one she had been alluding to."
The letter continued,
There are no words strong enough to express my deep and heartfelt gratitude. Ms. Kardashian, you are literally helping to save my life and restore me to my family. I was drowning and you have thrown me a life jacket and given me hope that this Life jacket I'm serving may one day be taken off.
While the photo of Kardashian and Trump in the Oval Office has been turned into some excellent memes, it's good to see Kardashian using her platform for a cause such as Johnson's. Whether or not she's equipped to discuss prison reform with government officials, her advocacy for Johnson will hopefully do some good.