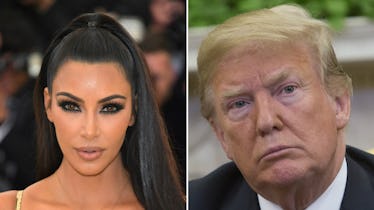 That Photo Of Trump & Kim Kardashian Is Already Getting Memed Because Of Course
Neilson Barnard/Getty Images Entertainment/Getty Images // Pool/Getty Images News/Getty Images
Kim Kardashian finally had her meeting with President Donald Trump about prison reform on May 30, which means two things: 1) she's pretty serious about her quest for social justice in America. And 2) there's gonna be a ton of memes about the photo they snapped at the meeting that'll likely take over your social media feed for the rest of the evening. I have no complaints about the latter because, based on the memes about Kim Kardashian and Donald Trump's photo that I've already seen, they're absurdly hilarious and one of the best things I've seen this week. (Next to Drake and Pusha T's beef, of course, but I'll save that for another chat.)
The reality star met with the president on Wednesday, May 30 to urge him to pardon 63-year-old Alice Marie Johnson, who has spent more than two decades in prison and is not eligible for parole for her role in a drug conspiracy. What went down in their meeting still remains unclear, but afterwards, Trump took to Twitter to post a photo of himself and the reality star together in the Oval Office, saying that it went "great." He captioned the pic, which showed Trump beaming while Kardashian stood beside him with a blank face, "Great meeting with @KimKardashian today, talked about prison reform and sentencing."
"Great" is open to your interpretation, but I'm calling BS.
While we wait for an official word about the outcome of the meeting, Twitter users had tons of jokes about it.
Is it even a meme without Photoshop?
Another user wrote they feel like our relationships to celebrities are "kind of unhealthy," and honestly, same.
And then there's this person, who knows what's up.
OMG, PLEASE NO, YOU GUYS. CHILLLL.
Although the meeting was an attempt to free Johnson — a first-time offender who is currently serving a life sentence for a nonviolent drug conviction — many people were pissed that it was the 37-year-old reality star who was granted the opportunity to meet with the president to discuss her case.
Others were also furious that she was even open to meeting with the controversial president. Despite the criticism, though, Kardashian told Mic on May 9 that her overall goal was to simply get Johnson freed. "I'm just focused on criminal-justice reform and helping one person at a time. And so far, the White House has been really receptive to my calls, and I'm grateful for that," she told Mic. "And I'm not going to stop that because people personally don't like Trump."
She continued: "I would explain to [Trump] that, just like everybody else, we can make choices in our lives that we're not proud of and we don't think all the way through. I really do believe that she's going to thrive outside of prison and I would just urge him to please pardon her."
A few hours after the meeting, Kardashian also took to Twitter to thank the president for taking the time to hear her out, adding that she's "optimistic" about Johnson's future. She wrote,
I would like to thank President Trump for his time this afternoon. It is our hope that the President will grant clemency to Ms. Alice Marie Johnson who is serving a life sentence for a first-time, non-violent drug offense.
For her part, Johnson has also expressed her gratitude for Kardashian fighting for her case, calling the beauty mogul her "war angel."
"I don't even know myself what emotions I will really feel when this happens," Johnson said in an email to Business Insider. "My faith in God is still very strong. I have already experienced the miraculous when Kim Kardashian West saw my story and came to my rescue by hiring attorneys to help me gain my freedom."
She continued, "She has embraced my cause and taken to heart my plight. Kim has been my war angel, and I'll never forget what she is doing for me."
I'll never forget Kim's efforts, either. But I also won't forget these memes. You guys really take me out with those things every time.