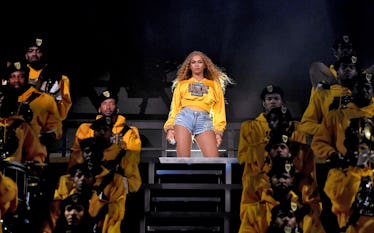 These Tweets About Beychella Weekend 2 Are Giving Me Major FOMO
Larry Busacca/Getty Images Entertainment/Getty Images
It's Beyoncé's world, we're all just living in it. After a truly epic headlining performance the first weekend of Coachella, back on April 14, you might have been left wondering how on earth she was supposed to be able to top that with a follow-up performance the second weekend. Well, how could we ever have doubted Queen Bey? The tweets about Beychella on weekend two of Coachella have me jumping up and cheering.
Coachella is basically the music event of the year — decade? It's big, anyway — so it kind of only felt fitting that the Queen herself would take center stage for it in this year of our Bey, 2018. (I'm just surprised it took as long as it did.) And although she was scheduled to perform twice over the two weekends, if before her second show you were thinking yawn, I already saw this, what's the big deal? then I cannot even begin to tell you how wrong you were. The performance on April 21 was just as big a deal as the first show was. Maybe even more so, considering how hyped everyone was after the first one.
Coming into the second weekend, fans were already getting excited thanks to reports that Queen Bey was planning on switching some things up from her first set, the better to keep it fresh and keep that crown held high. And oh, did it ever deliver. While Bey kept the songs she performed similar to her first performance last weekend, she made sure to debut all new looks, per ELLE. Yellow was the color of the night last weekend, and thanks to Balmain, last night was all about the pink.
Queen Bey did manage to have a new guest join her this time, with J Balvin hitting the stage to perform "Migente" with Bey. Oh, and Destiny's Child fans were treated to another reunion, adding to a familiar group of cameos from her sister Solange and her hubby JAY-Z.
Don't believe me? Just look at Twitter. When I say people were hyped, I mean they were hyped.
Her absolute mastery of Coachella's second weekend is only what we've come to expect from our queen. On the first weekend, Queen Bey took the stage at shortly after 11 p.m. PT and turned out an incredible multi-part performance that was part tribute to historically black colleges and universities (HBCUs), part Destiny's Child reunion, part African queen glamour, and 100% magic. This whole thing was phenomenal. I don't even know what to say about it, except that Beyoncé did what Beyoncé does: slay.
Within seconds, fans were freaking — and to be completely honest, I can't blame anyone. This thing was incredible. Is it any wonder Coachella has now been renamed "Beychella" in her honor?
But Beyoncé's absolute dominance of Coachella is way more than just a great performance. It's also significant because Beyoncé is the first black woman to ever headline Coachella in its 19-year history. Like, first ever. Guys, it's 2018, y'all are seriously behind the times on this. Get it together.
And appropriately enough, Bey's performance was unapologetically black (see the above re: HBCU themes). Enough so that her own mom, Tina Lawson, apparently warned Bey that she thought white audiences at Coachella wouldn't "get" the performance. In an Instagram post, Lawson wrote,
I told Beyonce that i was afraid that the predominately white audience at Coachella would be confused by all of the black culture and Black college culture because it was something that they might not get.
But Bey just doesn't do the right thing. Whatever Beyoncé does is the right thing. According to Lawson, her daughter responded,
Her brave response to me made me feel a-bit selfish and ashamed. She said i have worked very hard to get to the point where i have a true voice and At this point in my life and my career i have a responsibility to do whats best for the world and not what is most popular.
Preach, slay, repeat. And never let it be said that Bey doesn't put her money where her mouth is, because on April 16 she also announced that she would be donating $100,000 in scholarships to students attending four HBCU schools: Xavier University, Wilberforce University, Tuskegee University, and Bethune-Cookman University. So if you're enrolling in one of these schools, get yourself to the Homecoming Scholars Award Program website ASAP and check it out.
In short, there's a lot of reasons to be cheering the queen's latest Coachella performance. But hey, did we ever say that there would be only one?