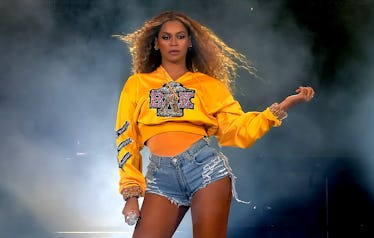 Beyoncé's Following Her Epic Coachella Show With Huge Scholarships For HBCUs & I Stan
Kevin Winter/Getty Images Entertainment/Getty Images
You guys. I'd already declared myself deceased after watching Beyoncé slay her set at Beychella — I mean, Coachella — on April 14, but now I've officially flat-lined. On top of her epic showdown, Beyoncé is giving $100,000 in scholarships to HBCU students and it's literally everything.
Beyoncé's set at the Coachella Valley Music and Arts Festival was legendary, to say the least: it was a concert. A block party. A fashion show. And a cinema that celebrated blackness and its influence in America. After the momentous, two-hour performance, Beyhivers (self included) had no idea what she could do in the future to top such perfectionism, but on April 16, she announced that multiple Historically Black Colleges and Universities (HBCUs) would receive $100,000 total in scholarships through her BeyGOOD initiative. And I'm seriously impressed.
According to Variety, the scholarships come from the newly created Homecoming Scholars Award Program and will be awarded for the 2018-2019 school year. However, if you're an incoming HBCU student and were looking forward to sending in your application, there's one small catch you need to know: only students from Xavier University, Wilberforce University, Tuskegee University and Bethune-Cookman University are eligible for the scholarships.
If you're still here and are curious on the deets, I have a bit more info for you: one scholarship, worth $25,000, will be given to one student from each university. According to Rolling Stone, applicants must have a 3.5 GPA and be studying one of the following disciplines: literature, creative arts, African American studies, science, education, business, communications, social sciences, computer science and engineering. While the news might be a little bittersweet, you gotta give her props for all these blessings.
According to a statement obtained by Variety, it was only right for a scholarship to follow the show since it was a homage to "excellence in education." The release reads,
The show, with its homage to excellence in education, was a celebration of the homecoming weekend experience, the highest display of college pride. The energy-filled production put the spotlight on art and culture, mixing the ancient and the modern, which resonated masterfully through the marching band, performance art, choir and dance. It was the impetus to mark her second scholarship program.
The Los Angeles Times also reported that Ivy McGregor, the director of director of philanthropy and corporate relations at Parkwood Entertainment, which is home to BeyGOOD, added that the scholarship is an ode to the legacy of HBCUs. He said:
We salute the rich legacy of Historically Black Colleges and Universities. We honor all institutions of higher learning for maintaining culture and creating environments for optimal learning which expands dreams and the seas of possibilities for students.
Bey's entire set at Coachella showcased a collegiate theme: Her outfits bore bedazzled Greek letters, evoking fraternity/sorority life. According to Blavity, the drumline included actual band members from other HBCUs, such as Florida A&M University (woot, woot), Tennessee State University, Alabama State University, and Prairie View A&M University. And the set also included quotes and music from potent historical and political Black icons like Nina Simone and Malcolm X.
This isn't the first time Beyoncé has gifted students with scholarship opportunities, though. Back in April 2017, she offered four scholarships to women who were studying "creative arts, music, literature or African-American studies" through The Formation Scholars Awards Program to commemorate the 1-year anniversary of her critically-acclaimed album Lemonade. The schools selected to participation were Berklee College of Music, Howard University, Spelman College and Parsons School of Design — two of which are HBCUs. So it seems like, this time around, she decided to go all out and extend her financial blessings to even more HBCUs and I'm completely here for it.
The queen never stops giving. I'm not sure what we did to deserve all this, but I'm not gonna complain one bit.