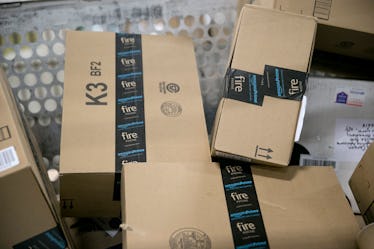 Amazon's Prime Day Crash Has Everyone Freaking & The Tweets Are Gold
Aaron P. Bernstein/Getty Images News/Getty Images
Amazon Prime Day comes only once a year, so get those online shopping fingers ready. Or, not? Because as of about 3:30 p.m. ET on July 16, or just half an hour into the beginning of Prime Day 2018, it appeared that the Amazon website and app had crashed for many users. And let me tell you, these tweets about Amazon's Prime Day crash are getting pretty desperate.
UPDATE: An Amazon spokesperson says in a statement obtained by Elite Daily around 5 p.m. ET, "Some customers are having difficulty shopping, and we're working to resolve this issue quickly. Many are shopping successfully — in the first hour of Prime Day in the U.S., customers have ordered more items compared to the first hour last year. There are hundreds of thousands of deals to come and more than 34 hours to shop Prime Day."
EARLIER: If you were counting down the minutes until the best of the deals were available on Amazon's Prime Day, you were definitely not alone. There were plenty of people who were waiting eagerly to pounce on discounts on everything from Amazon's Echo to everyone's favorite trendy pressure cooker, the Instant Pot. But for a lot of people, those plans were foiled. Shortly after the deals began at 3 p.m. ET on July 16, many shoppers began reporting that instead of seeing deals, they were seeing error messages. Both the website and the app appeared to be down. Why? Who can say. For how long? It's a mystery. Elite Daily reached out to Amazon for comment, but did not immediately hear back.
But in the meantime: People. Are. Not. Happy.
Some people decided to look at the bright side, though.
Good call with filling your 404 page with puppies, Amazon. It's hard to stay mad when all these little floofs are smiling at you. I still want my Instant Pot deal, though.
It's definitely a big disappointment for everyone who was looking forward to this exercise in indulgent capitalism. Prime Day is basically a Black Friday in July, with huge deals on everything from electronics to cookery to electronic cookery (like my Instant Pot, Amazon...). But there's a catch — it's only for members of the company's Prime service, which, for a yearly or monthly fee, offers subscribers everything from free two-day shipping to a wide selection of streaming movies and music.
But if you're one of those people who aren't experiencing the site crash and you're ready to get shopping, it's not too hard to sign up for a Prime membership. In fact, you don't even have to make a commitment right away! If you sign up for Amazon's free trial membership, it's a grand total of $0 for the first 30 days. That's definitely affordable, especially considering you're about to spend all your money on the sales. If you decide you like it and want to keep it, it'll run you $12.99 per month after that, or if you want to get a discount you can subscribe for a whole year and get a membership for $119. If you're a student though, you'll get an even bigger break, paying just $6.49 a month, or $59 if you subscribe for the year.
So if you want to get a shopping, you'll have to get on that membership first. But if you're one of the unfortunates who just can't make it onto the site at all right now? Well, at least you have those puppy pictures. I'll take what I can get.