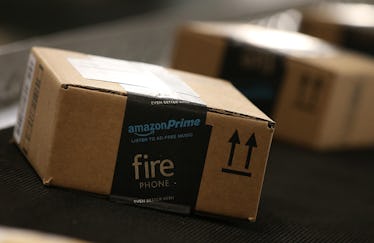 Here's How To Join Amazon Prime Just In Time For The Sales To Start
Justin Sullivan/Getty Images News/Getty Images
In terms of basic survival necessities, humans need shelter, water, fire, and food. In terms of pleasure, though, it's practically vital for humans to have puppies, avocados, and, most importantly, an Amazon Prime membership. Amazon Prime memberships are basically essential for the wellbeing of humankind, if you think about it. Aside from the fact that it provides free two-day shipping for packages, as well as access to original movies and TV shows, it also gives the glorious opportunity to get in on any and all Amazon Prime Day deals. So, here's how to join Amazon Prime for Amazon Prime Day 2018 so you can live a fulfilling life.
If you haven't become an Amazon Prime member already, I have to say, I'm not sure how you made it this long without doing so. I mean, I won't lie, I use my dad's account (thanks pops!), but being able to use it has seriously been life-changing. With an Amazon Prime membership, I get access to all kinds of really great things, specifically Amazon Prime Day deals. Luckily, becoming a member is totally simple.
In fact, it's really, really easy. According to the Amazon Prime sign-up page, all you have to do is make a free Amazon account and sign up for a 30-day Amazon Prime trial. If you don't cancel it after one month, you'll end up paying $12.99 per month until you decide to cancel it. Just make sure to sign up before July 16, however, because you won't want to miss out on what many are calling "Black Friday in July."
Since you're probably wondering what Amazon Prime Day is and why you absolutely need to start celebrating, listen up, because I'm about to give you the run-down. Within a span of 36 hours, all Amazon Prime members will be able to access millions of discounts. Different kinds of deals will go live throughout the day on anything from Amazon-brand devices (like the Kindle), to various electronics, appliances, sportswear, and even home decor items. To check out when certain sales will be going live, make sure to look at the Amazon Prime Day page. It's all 100 percent worth it, in my opinion.
Oh, and even if you're a little late to the Prime Day game, this year is definitely the year to start celebrating. Luckily, the world's greatest holiday has actually been extended from last year by six whole hours. In 2017, Amazon Prime Day only lasted for 30 hours, and this year, Amazon Prime Day is going to last for a full 36 hours. I don't know what any of us did to deserve this much-needed extension, but I am more than happy to be taking advantage of it.
Not only has Amazon Prime Day 2018 been extended time-wise from last year, but it's also been extended location-wise. Although this may come as a surprise, the holiday is celebrated worldwide, and has been extended to four additional countries this year. Those located in Australia, Singapore, the Netherlands, or Luxembourg will now be able to get in on all of the cheap and awesome deals, in addition to the U.S., U.K., Spain, Mexico, Japan, India, Italy, Germany, France, China, Canada, Belgium, and Austria, which have already been able to celebrate.
Coming from someone who's pretty lazy, becoming an Amazon Prime member is super easy. After making an account online, you'll be able to watch Amazon original TV shows, get free shipping on packages, and, of course, take advantage of Amazon Prime Day deals. It's going to be a wild ride, people, so give your wallet my regards.