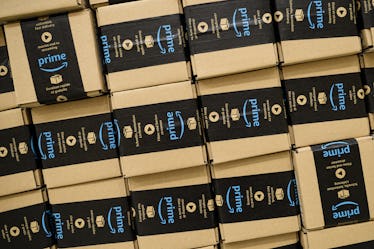 You Won't Have To Pay Shipping On Amazon Prime Day, So Fill Up Your Cart
Leon Neal/Getty Images News/Getty Images
Amazon Prime Day 2018 kicks off Monday, July 16. If you're an in-the-know Prime member, then you're probably already aware of this, but a little reminder never hurts, right? You also likely know that there are thousands of major discounts to be had when the sale of the summer begins on Monday, but you might wonder if the same Prime shipping rules apply to Prime Day. So, is shipping free on Amazon Prime Day?
Shipping costs are a necessary evil when it comes to online shopping, but you won't have to worry about that getting in the way of your Prime Day fun. One of the best perks of being an Amazon Prime member is the free shipping that comes with your membership. According to the Amazon press release announcing Amazon Prime Day 2018, "Prime was built on the foundation of unlimited fast, free shipping."
Seeing as though only Prime members can partake in the Prime Day sales from 3 p.m. ET on Monday, July 16, through July 17, it makes sense that the must-have deals come with free shipping. After all, your Prime membership always provides you with "unlimited Free Two-Day Shipping on more than 100 million items," per the release. When it comes to this epic summer sale, it definitely pays to be a Prime member.
As I mentioned before, Amazon Prime Day deals are only available to Amazon Prime members. Currently, an Amazon Prime membership costs $119 per year or $12.99 per month, and students can get a reduced-cost membership price at $59 per year or $6.49 per month, per the Amazon website. If you've never been a Prime member though, you can sign up for a free 30-day trial membership to take advantage of all the amazing Prime Day deals.
Once you have your Prime membership squared away, you'll be happy to know that there are plenty of options when it comes to your free-shipping needs. Per the release, Prime members in more than 8,000 cities have access to "Prime FREE One-Day Shipping and Prime FREE Same-Day Delivery," and more than 30 major-market cities even have "two-hour delivery with Prime Now."
So what should you buy with all this free-shipping power you now have as a Prime member? Well, if this is your first foray into Prime Day, then you've chosen a great year to jump on the bandwagon. Prime Day 2018 is a record-breaking 36-hour-long sale, which is six hours longer than 2017's Prime Day. Not only do you have more time to shop, but you also have many more deals right at your fingertips. Jeff Wilke, Amazon CEO worldwide consumer, explained in the press release what Amazon Prime members have to look forward to when Prime Day kicks off on July 16. Wilke shared:
Prime members will enjoy a day (and a half) of our best deals, with 36 hours to shop more than one million deals worldwide. New this year, members can shop exclusive Prime Day Launches from hundreds of brands worldwide, enjoy exclusive savings at Whole Foods Market and experience surprise entertainment events unboxed from giant Smile boxes in major cities. More than 100 million paid Prime members around the world will find our best Prime Day celebration yet.
Part of what makes the 2018 Prime Day the "best Prime Day celebration yet" is the new Whole Foods Market deals that are available, following Amazon's August 2017 acquisition of the supermarket chain. U.S. Prime members can get 10 percent off already reduced prices at Whole Foods Market locations on Prime Day, and you can get 10 percent back in rewards when you use your Amazon Prime Rewards Visa between July 14 and July 17.
The new Whole Foods Market deals are on top of already great bargains, like up to 20 percent off AmazonBasics items and a new four-month Amazon Music Unlimited subscription for just 99 cents. Really, there is no end to the deals you can score during the Prime Day sale.
So, don't fret about the thought of high shipping costs deterring you from Amazon Prime Day 2018, because you can stock up on all the deals you can handle — and still get your free shipping.