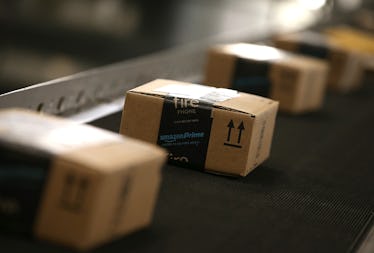 Here's How Long You'll Have To Shop On Amazon Prime Day 2018
Justin Sullivan/Getty Images News/Getty Images
Out of all the seasons, summer is without a doubt my favorite. I'm always looking forward to swimming outdoors, camping in the woods, hiking up mountains, and most importantly, shopping for cheap bargains on Amazon Prime Day (because, duh). The money-saving holiday only comes once a year, so I need to make it count. Since you're likely wondering how long Amazon Prime Day lasts, be prepared for a whole lot of shopping. It's probably a lot longer than you think.
Amazon Prime Day, also known as "Black Friday in July" (or, as I call it, "the holy day"), is coming up very, very soon — and as you'd imagine, I am HYPED. This year, the endless online bargains will officially start coming through on Monday, July 16 at 3 p.m. ET, and they will last through Tuesday, July 17. In 2017, Amazon Prime Day lasted for only 30 hours, and it's getting extended to 36 hours this year, so be prepared to get your shop on for a full day and a half. Amazon is going to make these deals fall like rain, and rest assured you won't be needing an umbrella. In the words of Hillary Duff, let the (deals) fall down, and wake my dreams.
There's going to be millions of online deals popping up throughout the day, so make sure to tune in when something you might want goes on sale. (But also just tune in whenever you can, because you won't want to miss out on anything.) Oh, and even if you aren't an Amazon Prime member, some vendors will be offering discounts to non-members, so make sure to get more information on the Amazon Prime Day page. It'll show you when any sale goes live, so it's definitely a useful tool. Prime Day is going to be a shopping spree to remember, my friends, so get your wallets, bank accounts, and credit cards ready. May the sales be ever in your favor.
If you're not entirely sure what kind of deals you're looking for, there will probably be a deal on anything you could possibly think of. That's right, anything. To start, there are going to be tons of sales on any and all Amazon-brand devices (like Kindles and Echos), but there will also be discounts on electronics, clothes, movies... you name it. Amazon Prime Day is kind of like Christmas, so you could end up with fuzzy socks, new Beats, or even a brand new food processor. I'm personally eyeing the outdoor sports equipment and the leather jackets, but hey, that's just me.
If you're not located in the U.S., don't worry, because Amazon Prime Day is celebrated globally. In fact, this year's Amazon Prime Day has officially been extended to four additional countries. My pals out there in Australia, Singapore, the Netherlands, and Luxembourg can officially get in on all of these deals, along with the U.S., the U.K., Spain, Mexico, Japan, India, Italy, Germany, France, China, Canada, Belgium, and Austria. It's literally a bargain miracle.
There's a lot of really great things about the warmest season of the year, but Amazon Prime Day is 100 percent the best part of it all. In 36 hours of online shopping, who knows how many amazing deals I'm going to get? Will I get a flat-screen TV for half off? Will I get BOGO Vitamix blenders? If you couldn't already tell, I'm really looking forward to Amazon Prime Day 2018, because it's going to be so, so lit. I want to wish the best of luck to each and every one of you. Happy spending!