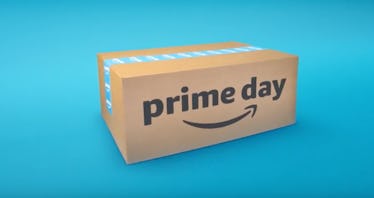 Amazon Prime Day Sales Are Extended This Year, So Prepare To Spend A Little More
Amazon Prime Day is the real hero of summer sales. It's a day filled with major discounts on your favorite items, and there's nothing like the thrill of filling up your cart with major savings. The even better news for shoppers this year is that Amazon has extended the length of its awesome deal day. So, when does Amazon Prime Day 2018 end?
The good news is that you have more than a day to take advantage of whatever deals you have your eye on. More specifically, you have 36 hours to snag the best bargains you can find, because Amazon Prime Day 2018 runs from 3 p.m. ET on Monday, July 16 through the end of the day on July 17, per an Amazon press release. For avid Amazon shoppers, you'll notice that is a six hour increase from 2017's 30-hour sale (!!!).
According to the release, "Prime Day (and a half)" features more than one million deals are that are exclusive to Prime members. If you're not a Prime member, you can sign up for a 30-day free trial of Prime to participate in the biggest Amazon Prime Day sale yet. You don't want to miss out on this Prime Day that promises "double the deals on Amazon devices ... like Echo, Fire TV, and Fire tablets."
Even Prime Day veterans will be treated to something new during this year's 36-hour sale. Jeff Wilke, Amazon CEO Worldwide Consumer, explained in the press release that there will be new launches and an exciting partner deal with Whole Foods Market. (Amazon bought Whole Foods Market in August 2017.) Wilke shared:
New this year, members can shop exclusive Prime Day Launches from hundreds of brands worldwide, enjoy exclusive savings at Whole Foods Market and experience surprise entertainment events unboxed from giant Smile boxes in major cities. More than 100 million paid Prime members around the world will find our best Prime Day celebration yet.
U.S. Prime members will have access to the Whole Foods Market deals, which includes a 10-percent discount on "hundreds of sale items throughout Whole Foods Market stores." Other exciting deals for Prime members include the Prime-exclusive launches from well-known and emerging brands during Amazon Prime Day.
Some of the U.S. Prime Day Launches include: "Delta Trinsic Touch2O voice-activated faucet, the first Alexa-enabled kitchen faucet; Coleman RoadTrip LXE portable propane grill with new features perfect for camping, tailgating and picnicking [...] and the Moto G6 64 GB, an exclusive version of the best-selling unlocked Android smartphone featuring a brilliant 5.7" Full HD+ Max Vision display with 4 GB of RAM and 64 GB of internal storage," per Amazon's press release.
OK, that's all very exciting — and I am totally putting an "Alexa-enabled faucet" on my Prime Day wish list — but all this talk of deals makes me want to take advantage of them right now. While most of the Prime Day deals are only available during the record-breaking 36-hour sale from July 16 through July 17, there are actually some deals that Prime members can take advantage of ASAP.
If you're new to Prime, you can sign up for Amazon Music Unlimited for only 99 cents for four months. Looking for a good book to read? Sign up for Kindle Unlimited at a price of 99 cents for three months. Plus, if you buy a Kindle book ahead of July 16, you'll also get a $10 Prime Day credit that you can use "towards eBooks, print books and Audible." Even though you can start taking advantage of the Kindle and Amazon music first-time-user deals as of July 3, the deals continue through the end of Prime Day on July 17.
Again, new members can sign up for a free 30-day trial of Prime, and the prices after that are either $119 per year or $12.99 per month. Qualified students can get a reduced-cost Prime membership for $59 per year or $6.49 per month, according to the Amazon website. Besides access to the amazing Prime Day deals, Prime members also receive benefits like unlimited free shipping. Of course, you can always cancel your trial membership after Prime Day, but first, it's time to focus on all the savings.
Now all that's left to do is mark your calendar for July 16, and clear your schedule to take advantage of all 36 hours of 2018's highly anticipated Amazon Prime Day. Happy shopping!