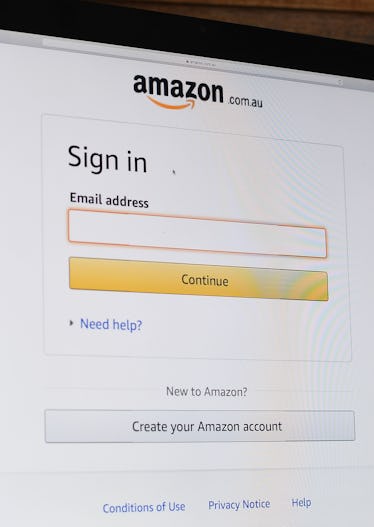 Amazon's Website Crashed During Prime Day & Wow That's Some Bad Timing
Quinn Rooney/Getty Images News/Getty Images
Bad news alert. If you hopped on to Amazon in the past few moments, eager to pack your cart full of discounted goodies for Prime Day and saw an error screen, you might be wondering: "why is Amazon's website down?" And also: "what about that Echo Show or Amazon Fire 7 tablet I had my eyes on???" (I know, I feel you.) Apparently, there are some technical difficulties going on, so just try to stay calm, folks.
According to The Verge, the outage started around 3:05 p.m. ET on July 16 — just minutes after Prime Day started, which is essentially like "Black Friday in July." (!!!) It's unclear how widespread the issues are, but the website Down Detector reported that there have been around 15,000 reports of issues. According to the outlet, some shoppers were able to browse for items, but the website crashed when they attempted to finalize their purchase. Many customers said they weren't able to access Amazon's homepage at all. And others reported seeing the company's "dogs of Amazon" page, with a message that says "Sorry, something went wrong on our end," directing them to try to go back to the home page.
In an emailed statement, Amazon tells Elite Daily that while some shoppers are having trouble, others are doing just fine. The company said via a spokesperson,
Some customers are having difficulty shopping, and we're working to resolve this issue quickly. Many are shopping successfully – in the first hour of Prime Day in the U.S., customers have ordered more items compared to the first hour last year. There are hundreds of thousands of deals to come and more than 34 hours to shop Prime Day.
Nevertheless, many customers immediately reacted to the news on Twitter, sharing photos of the error pages while voicing their frustrations over the Prime Day disappointment.
One person found consolation in seeing others on Twitter experiencing the same issues.
Some people nearly broke the refresh button.
@zashe26 said she would be expecting a full refund for her membership for the "pain and suffering" from having to refresh the site so much, and TBH, I can totally relate.
"Great time for @amazon to be down on #PrimeDay At least I got to meet all the dogs," wrote one Twitter user, sharing images of four different error pages, which featured remorseful-looking pups.
You've gotta admit: this error page is pretty amazing.
But the crash is an overall unfortunate situation for shoppers. I mean, it just really couldn't have happened at a worse time. Amazon Prime Day offers thousands of deals for Amazon Prime members (which, if I might add, costs $119 a year). The promo only runs for 36 hours — which is a six-hour extension from 2017's 30-hour Prime Day sale, in attempts to give customers a chance to snag more discounts. There were also tons of exciting deals for Prime members, from cool gadgets like the Amazon Echo Dot to handy appliances, which had shoppers overly ecstatic in the days leading up to the sale.
I think this one best summed up the feelings of Prime members around the world.
Phew. What a letdown. But hopefully, for the sake of all of us excited shoppers out there who are missing out on deals, the site will get back up and running before we know it. Just take a deep breath, guys. It's going to be OK.