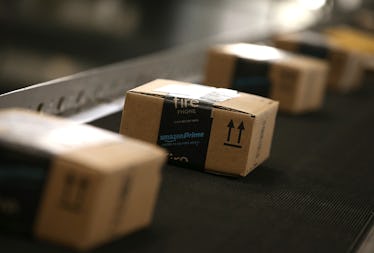 You'll Need To Do One Thing Before Taking Advantage Of Amazon Prime Day Sales
Justin Sullivan/Getty Images News/Getty Images
It's that time of year when a simple membership can grant you countless chances to save big on pretty much every necessity you can think of. That's right, Amazon Prime Day is just days away, and the retail giant's version of Black Friday is only here for 36 hours when it launches on Monday, July 16. Here's how to score the best deals of the summer on TVs, groceries, new computers, and more if you're wondering, do I need to be an Amazon Prime member for Prime Day Deals? Trust me, you don't want to miss out on all the online sales.
In order to take advantage of Prime Day savings, you'll need to sign up for an Amazon Prime membership ASAP if you don't have one already. Honestly, you'll wonder why you didn't sign up earlier when you find out about all the cool benefits that come with a Prime membership. Not only can you take advantage of incredible discounts on Amazon and Whole Foods from Monday, July 16 at 3 p.m. ET through Tuesday, July 17, but prepare to also enjoy amazing perks all year round. An Amazon Prime membership grants you access to a host of free TV shows, movies, and original series, plus you also get free two-day shipping on most items, which makes it so worth it in my book. Plus, creating an account is so easy. Simply make a free Amazon account, then sign up for a 30-day Amazon Prime trial. You have 30 days to decide if you want to cancel it before you're charged $12.99 per month. Even if you decide to continue the membership past Amazon Prime Day, that's basically the cost of one work lunch, so it's well worth signing up.
In addition, almost everything under the sun is up for offer during "Black Friday in July," as the day has come to be called. That means that you can get steals on a Kindle, a Vitamix, and the cute swimsuit you've been wanting, all without waiting until November. Amazon offers a full list of its deals on the Prime Day page, so check it out to see when the items you want to purchase are being offered. There's even a section where some vendors are offering deals that are applicable to customers who don't have an Amazon Prime membership (but I wouldn't count on it if you want to get the good stuff).
In my opinion, the best part of Prime Day is that unlike Black Friday, you won't be leaving your family and battling a turkey coma to go stand in lines and fight fellow deal-hunters over discounted goods. You can shop from the comfort of your home during the 36-hour sale, place an order, and receive your items in the mail in just two days.
If you happen to be traveling during the summer or you don't live in the United States, you can still get in on the slashed price tags. Amazon Prime Day deals are offered to residents in the United States, the UK, Spain, Mexico, Japan, India, Italy, Germany, France, China, Canada, Belgium, and Austria. In addition, four additional countries — Australia, Singapore, the Netherlands, and Luxembourg — were also added this year, because Prime Day is an international event, and no one should be left out.
And by "no one," I mean you. So what are you waiting for? If you're planning on partaking in this celebration of capitalism in excess and its two-day delivery, get yourself to that Prime membership page and get set up to find your perfect sale. Happy shopping, everyone.