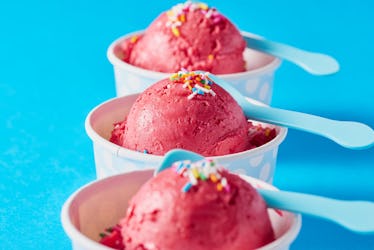 This Ice Cream Might Cost More Than Your Rent & Twitter Is Shook
Jeff Wasserman / Stocksy
At this time of the year, few things are as satisfying as feasting on a cold scoop of ice cream. It's sweet, creamy texture, the endless amount of flavors, the variations you can get it in... We can all probably agree that ice cream is one of the best creations on earth. But there's one particular place that has taken the silky-smooth treat to a new level — and it'll cost you $1,500 to get it. That's right, as in 1-5-0-0 — an amount that's likely more than your student loan payment, your rent, and even Beyoncé tickets. If you already know the treat is out of your tax bracket, don't feel bad: the tweets about a $1,500 ice cream show that you're (we're) not alone.
The creation, dubbed the "Bear Extraordinaire," debuted on Wednesday, July 11, at Baccarat Hotel New York in Manhattan, and is America's most expensive ice cream. According to CNBC, the foundation of the ice cream is house-made vanilla ice cream that's created with "imported vanilla beans from Madagascar." The dessert comes in a smooth, white chocolate shell, which comes with a hand-painted, colored cocoa butter design. It's served on top of three grams of black truffle crumble, with Manjari dark chocolate, and Valrhona Gold cocoa nibs. Surrounding the shell is a hibiscus champagne sauce, with citrus meringue. The toppings don't stop there — it's also garnished with edible gold and silver leafing, fondant butterflies, and angel hair sugar strands, because, why not?
Impressive? Yes? Way out of my budget? Also, yes.
Take a look for yourself, but for the sake of your wallet, you might wanna really try to stop yourself from falling in love.
Twitter users were (rightfully) appalled.
One user maintained that he could find an even better alternative at a "hole in the wall" in New York.
Yes @pmkqueen! (Although I probably wasn't trying it anyway.)
Yeahhh, I'll just be over here enjoying my handy dandy pint of Ben & Jerry's if anyone needs me.
This isn't the first time that an exclusive dessert item with a hefty price tag has gone viral, though. Rose Gold Rosé Marshmallows made their debut in April, and had nearly everyone captivated. The divine creations were crafted by XO Marshmallows and, according to its website, come in a glittery hue of rose gold and taste just like rosé. Additionally, as Bustle notes, each rose gold marshmallow is infused with Graham Beck Brut Rosé, and has hints of cherry and raspberry. Just one pack of the 'mallows cost $15.95. I'm no marshmallow expert, but I'm gonna guess that that's like... three times the amount of a regular pack of the snacks.
Back in February, all eyes were also on the Golden Cristal Ube Doughnut. The doughnut came lathered with Cristal Champagne-infused icing, and filled with an ube mousse — aka purple yam mousse, which has a savory-yet-sweet flavor — and Champagne jelly. Lastly, the outside was embellished with a gorgeous 24-karat gold leaf — all for a final price of $100. The creator of the decadent treat, Club Gold, had even offered customers the option to serenade their doughnut while it was being made with a "gold" song of their choice. Some of the options included "Gold Dust Woman" by Fleetwood Mac and "Gold Digger" by Kanye West," for no additional charge. As absurd as it might sound, it was actually a pretty popular dessert.
I thought I'd seen it all when it comes to pricey desserts, but it's nice to know that there are always newcomers that keep me surprised. Even if I can't get my hands on it.