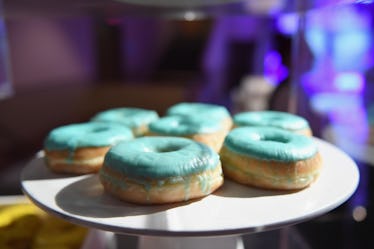 This Champagne-Infused Gold Donut For Valentine's Day Is So Extra & I Want It
Dia Dipasupil/Getty Images Entertainment/Getty Images
When Valentine's Day rolls around, you probably resort to all of those routine desserts to go along with the gift you got your sweetie: chocolate-covered strawberries, a box of chocolates, some kind of crafty cake or maybe candy. But I betcha you never thought you could buy a treat that's crafted out of gold. There's a new champagne-infused gold donut for Valentine's Day that sounds oddly delicious and cool AF.
On Feb. 14, reports surfaced that detailed the handcrafted treat, known as the Golden Cristal Ube Doughnut. According to The Drinks Business, the treat is lathered with icing infused with Cristal champagne, then filled with an ube mousse — aka purple yam mousse, which has a subtle but sweet flavor — and champagne jelly. Lastly, the outside is covered with a gorgeous 24-karat gold leaf. (TBH, this is sounding like one of the only times when a dessert could suffice over an actual gift.)
The Cristal doughnut is only available for the holiday and was created by a South Australian company called Club Gold. They're sold for $100 in Australian dollars ($80 in American dollars) — however, there's a catch. Only 100 donuts are being produced, so you'd have to get them while you can.
That said, if you are completely sold on this delectable treat and ready to try it for yourself, there's just one last thing you need to know: the donuts can only be delivered or picked up in the Adelaide metro area, according to HelloGiggles. So, if you're not a resident of South Australia, you're out of luck (but don't worry, I'm disqualified, too).
If you're still here and interested in getting your hands on the limited-edition snacks, Club Gold also has options to make your order even more special. In addition to the gold wrapping and its champagne-filled inside, the team will serenade the donut with a "gold" song of your choice while your treat is being made, according to The Drinks Business. You can request songs like "Gold Dust Woman" by Fleetwood Mac and "Gold Digger" by Kanye West," for no additional charge, which makes the price seem... worth it? And did I mention you can buy them in stock? Club Gold is also selling six doughnuts for $500 or a dozen for $1,000. What a deal!
But it's not the first time the idea has been done.
In 2016, the Manila Social Club, located in Brooklyn, New York, promoted their own Golden Cristal Ube Donut. In a message posted to their Instagram page, the company wrote that their donut included the same ingredients for the same price. Part of the caption read, "The Manila Social Club presents their infamous gold-ube donut, adorned with icing made with Cristal champagne and filled with an ube mousse, champagne jelly, and covered with 24k Gold. $100 per donut."
When speaking about the donut's creation, Manila Social Club's Chef Björn DelaCruz said he came up with the idea after collaborating with two brewery owners. He said,
We both started our businesses around the same time. We had a doughnut event where I unveiled a doughnut with icing made with Braven White IPA, dusted with gold. That was the beginning of the golden doughnut [idea].
DelaCruz also said he chose Cristal because its flavor pairs nicely with the donut's filling. He revealed,
The reason I chose Cristal over another type of champagne is because Cristal has really great honey notes which goes great with ube (purple yam). For me, it's shiny and it's golden, but it comes together to create a really great doughnut, as crazy as that sounds. There was a time when I was eating this doughnut while drinking Cristal, and I was like, "Oh, this is a great combo!"
Club Gold seems to be paying homage to the now-closed restaurant, but is it too far-fetched to ask they send some samples our way? I know it's thousands of miles away, but at a price of $100, I don't think any of us would mind spending a few extra bucks on shipping. Who's with me?