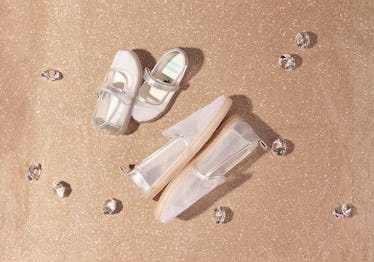 These New TOMS x Disney Shoes Look Like Cinderella's Glass Slippers & They're Fit For A Ball
Courtesy of TOMS
As long as I can remember, I've wanted a pair of glass slippers. While I only had a cartoon movie to imagine what my dream shoe would look like, I held on to the hope that, one day, I'd get my hands on a see-through footwear option of my own. And finally, after decades of wishing upon a star for a pair of sparkly, transparent slip-ons of my own, this TOMS x Disney Cinderella collaboration made all my shoe wishes come true like bibbidi bobbidi boo.
TOMS and Disney are keen to teaming up and working to the stroke of midnight on magical versions of the classic shoe design. The duo previously collaborated on individual capsule collections for each of the three OG Disney princesses: Sleeping Beauty, Snow White, and Cinderella. Now, for their Holiday 2018 Collection, which they've dubbed "The Extra Magical Disney Capsule," TOMS and Disney released three more shoe designs celebrating the iconic princesses' styles.
For all of the collections, Disney reached deep into their arsenal of never-before-seen artwork (which, BTW, was created by Disney's all-female Ink and Paint department in the mid-1900s) for new fabric prints to showcase on the shoes. However, my favorite pair from "The Extra Magical Disney Capsule" collection is the only shoe in the entire collection that doesn't boast a print at all. It's a very modern (not to mention super stylish) interpretation of Cinderella's dreamy glass slipper that I drooled over as a kid.
The Silver Cinderella Glitter Mesh Women's Deconstructed Alpargatas ($75, toms.com) look just like the TOMS slip-ons that we all know and love, but these are made up of a transparent fabric with a barely-there silver glitter speckled pattern that makes the entire shoe shine with every step you take. Even the sole has a shimmer to it. And just like Cinderella's cartoon slipper, this TOMS shoe shows off a hint of your foot, which makes it feel like an actual glass slipper — but I imagine it's much more comfortable than the one the prince slipped on Cinderella's foot.
The Cinderella Glitter Mesh slip-on is available from sizes 5 through 12, because you're never too old to channel your inner princess. But for the little princesses in your life, the Disney X TOMS Cinderella Glitter Mesh Tiny TOMS Mary Jane Flats ($49; toms.com) are also available in child sizes 2 through 11, and have a silver strap across the foot.
Add these transparent, shimmery TOMS to your collection, and you'll look like a princess in no time. And get this: You won't even need a fairy godmother to wave her wand or a trio of mice as your posse. The best part is, these will still be there after the clock strikes midnight, so go ahead and add these pretty Silver Cinderella Glitter Mesh Women's Deconstructed Alpargatas to your cart STAT, because I doubt they'll be there long. If there's anything we've learned from Cinderella, it's that a shoe has the power to change your life.