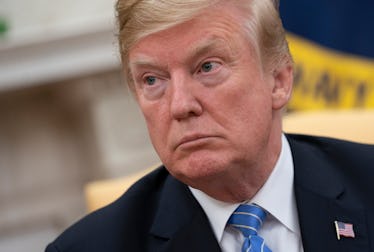 Throwback Photos Of Donald Trump & His Kids Reveal A Lot About How He Was As A Dad
Pool/Getty Images News/Getty Images
The Trump family name is iconic for a lot of reasons, now more than ever. But President Donald Trump, even before he was associated with politics, was known as the head of a business empire that, notably, has been a family effort. Now, his children have played pivotal roles in not just getting him into office but helping him both inside and outside the White House, serving as his advisers and taking the helm of his organization in his absence. These throwback photos of Donald Trump and his kids offer some insight into his dynamic with his children when they were young.
Trump Sr. has shared a lot of throwbacks, as have his four eldest children. (As a reminder: He has children from each of his three marriages, to Ivana Trump, Marla Maples, and Melania Trump, sequentially.) But the three Ivana children — Don Jr., age 40, Ivanka, age 36, and Eric, age 34 — seem to come up the most in their father's online posts. Tiffany Trump, 24, and Barron Trump, 12, the children of Marla and Melania respectively, appear to occupy a comparatively less prominent role in their father's photo-sharing online. (In Tiffany's case, she grew up apart from her dad.) But on the photo, Trump seems to be a pretty proud papa and he's not afraid to show it.
The topic of Trump as a father is itself a massive one worth devoting volumes to. But in a nutshell, it's fair to say that Trump, given that he's made his business and presidency a family affair, is all about his children. And based on these old-school photos, it's not hard to see it.
Any amount of social media sleuthing makes it clear that Trump Sr. is a pretty big fan of all his children, his first-born especially. (And of the most adorable photos out there of Junior and Senior: You guessed it, baby pics.)
Per People, Ivana said Trump as a father loved his children, "but he would not really be the dad who would take them for a stroll in the Central Park in the stroller or go and play soccer with them or do something like that."
Walks in the park or not, Donald the Dad took his kids out to sporting events, looking at these photos below, apparently of Eric and his dad at the U.S. Open and Eric and Ivanka with their dad at a baseball game.
(Scope those snap-on, high-waisted bell-bottomed jeans though.)
It's worth mentioning that, of his relationships with his five children, Trump Sr.'s dynamic with Ivanka has been subject to arguably the strictest scrutiny. And it's not without basis. "[S]he does have a very nice figure," he told The View back in 2006. "I've said if Ivanka weren't my daughter perhaps I'd be dating her."
Mr. Trump also reportedly compared both Stormy Daniels and Karen McDougal —both of whom allege they had extramarital affairs with him in 2006 — to Ivanka, who is currently serving her father's administration as a presidential adviser.
And as for what Ivanka has said about him: It's pretty clear she's a big fan of her dad.
As for his other daughter, Trump Sr. doesn't appear to post nearly as much about Tiffany compared with his three oldest children, which may or may not have something to do with the apparent fact that he said that he was less proud of her than his other kids (Ouch.)
One of the only times he's ever shared a photo of her on Twitter was simply quoting a Father's Day tweet she'd posted about him in 2013. But for whatever lack of throwbacks he's shared about Tiffany, she's shared a lot of photos of her and father from her childhood.
But Trump Sr. appears to be carrying on his role as family man with the next generation of Trumps.
Donald Trump Jr., captioning the photo, wrote, "I don't know, but to me that's the look of pride all grandparents should have looking at their grandkids."