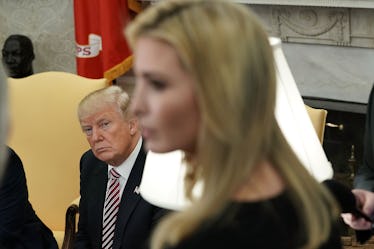 These Donald Trump Quotes About Ivanka Are Super Uncomfortable
Alex Wong/Getty Images News/Getty Images
The world's worst-kept secret may be that President Donald Trump has repeatedly espoused sexual comments and observations about his daughter, Ivanka. I'm not talking about innocuous pride for his daughter's personal attributes or accomplishments. These nine Trump quotes about Ivanka are uncomfortable as hell because they are mostly describe her in a sexual context.
After his p*ssy-grabbing comments as recorded on the infamous Access Hollywood tape from 2005 became public, it's not exactly surprising to hear of Trump's history of alleged misconduct with women. ABC published a list in February that placed the current number of sexual misconduct accusers against Trump at 16, though the White House's official stance is that all of these women are lying and Ivanka has repeatedly said that she believes her father over his female accusers.
Ivanka and her father have a history of working together — one that continued when Trump was elected president in 2016. He hired his daughter as an adviser, and she took a more formal White House role as senior adviser to the president in May 2017, though, without a salary. Her continued ties to The Trump Organization have raised speculation about alleged conflicts of interest — one of many unprecedented facets of a billionaire real estate mogul and his family taking up residence in the White House. (Peter Mirijanian, a spokesman for the attorney hired by Ivanka and her husband, Jared Kushner, told McClatchy that when Trump became a federal employee, she "transitioned from being an active investor and manager to being merely a passive investor." He added that she would recuse herself from any decisions at the White House that could pose a conflict.)
Discounting their history as business partners and family members, here's what we know for sure: Trump has publicly made plenty of sexually-charged comments about Ivanka.