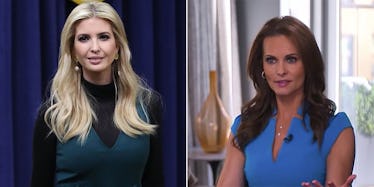 Donald Trump Reportedly Told A 'Playboy' Model She's "Beautiful Like" Ivanka & I'm Done
Mark Wilson/Getty Images/CNN
In an interview aired on Thursday night, March 22, with CNN's Anderson Cooper, former Playboy model Karen McDougal talked about an affair she allegedly had with President Donald Trump over a decade ago. At different points throughout the interview, the former model talked about how she reportedly met Trump, described what he was like in conversation, and even apologized to First Lady Melania Trump. One of the more notable parts of the interview, though, came when Karen McDougal said Trump compared her to Ivanka, his eldest daughter.
The moment came after Cooper asked whether Trump made any comparisons in the past between McDougal and any of his children. She answered,
You know, he — he's very proud of Ivanka, as he should be. I mean, she's a brilliant woman, she's beautiful, she's — you know, that's his daughter and he should be proud of her. He said I was beautiful like her and, you know, 'you're a smart girl' and there wasn't a lot of comparing but there was some, yeah. I heard a lot about her.
Karen McDougal is a 47-year-old model who was named Playboy's Playmate of the Year in 1998. In February, McDougal was at the center of a story from The New Yorker. The highly detailed report features photos of handwritten notes about Trump and McDougal's alleged affair — which The New Yorker says McDougal admitted to writing — and reports on the types of legal tactics reportedly used by Trump to ensure stories of infidelity don't go public. Trump representatives have denied that an affair occurred.
The New Yorker piece also reports that the alleged affair between Trump and McDougal began in June of 2006 and continued 'til around April 2007. That timeline is similar to the one drawn out by the various reports about another alleged affair, between Trump and adult film star Stormy Daniels.
In a 2011 interview with In Touch magazine — the transcript for which was only released in February — Daniels claimed that she met and engaged in an affair with Trump during the summer of 2006 as well.
Among the reasons that McDougal's mention of Ivanka stood out, during the interview with Cooper, is because of its similarity to the way Stormy Daniels mentioned Ivanka in the 2011 interview with In Touch. (Trump representatives also denied an affair with Daniels.)
"Yup. He bragged about his daughter quite a bit though. He was very proud of her, which is nice," Daniels said. "He told me once that I was someone to be reckoned with, beautiful and smart just like his daughter. She is smart and beautiful, so I guess that's a compliment. But as far as family, that's all he ever said. He definitely is very proud of her, as he should be."
Earlier in March, McDougal filed a lawsuit against American Media Inc., the parent company of The National Enquirer, the infamous gossip tabloid. McDougal's claims that she was deceived into making a deal with the company to sell the story about the alleged affair, only to have the company not hold up its end of the bargain.
"AMI lied to me, made empty promises and repeatedly intimidated and manipulated me," McDougal said in a statement, per USA Today. "I just want the opportunity to set the record straight and move on with my life, free from this company, its executives and its lawyers."
In a statement of its own, American Media claimed that it did not make an improper deal with McDougal. The statement said, "Karen McDougal has been free to respond to press inquiries about her relationship with President Trump since 2016. Thus, the suggestion that AMI "silenced" her is completely without merit."
Among the other notable parts of McDougal's interview with Cooper is a moment during which she apologizes to Melania.
That, too, is a similarity between McDougal and Daniels, with the latter having shared the same sentiment.