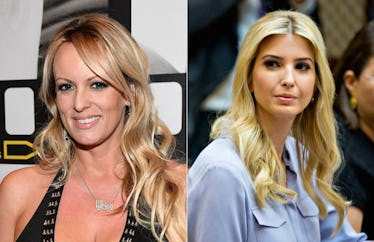 Donald Trump Reportedly Told A Porn Star She's "Just Like His Daughter" & I'm Disgusted
Ethan Miller/Andrew Harrer-Pool/Getty Images
Another day in the Trump administration, another apparent horror to behold. This time around, news came out on Wednesday Jan. 17 that Donald Trump reportedly compared Stormy Daniels to Ivanka Trump. So to clarify that a bit: Donald Trump once allegedly said that Stormy Daniels, a porn star, was like Ivanka Trump, his daughter. And just to add to that image in your head, that alleged comparison was made while Donald Trump was flirting with Daniels. So, enjoy that thought.
Daniels — born Stephanie Clifford — became the center of some major Trump drama on Friday, Jan. 12, when The Wall Street Journal reported that Trump's personal lawyer, Michael Cohen, had allegedly paid her $130,000 in 2016 to stay silent about an alleged sexual affair she had with Trump in 2006. Cohen told The Wall Street Journal he "vehemently denied" the claims; a White House official said allegations of that affair were "old, recycled reports, which were published and strongly denied prior to the election;" Daniels called the affair claims "absolutely false" and added that allegations of "hush money from Donald Trump are completely false."
Well, that was Jan. 12. On Wednesday, Jan. 17, In Touch published a report claiming that they had interviewed Daniels about an alleged affair with Trump. According to the magazine, they interviewed her in 2011 about allegedly having sex with Trump in 2006. When the magazine interviewed her, Daniels also reportedly passed a polygraph test.
"President Trump once again vehemently denies any such occurrence, as has Ms. Daniels," Cohen told In Touch.
According to The Daily Beast, In Touch will be publishing 5,500 words of the interview with Daniels about Trump. Whew. The interview includes a whole bunch of details about Daniels allegedly sleeping with Trump. It's... a lot. It's a lot. I guess I gotta tell you about it, huh? Ugh.
SO. In the 2011 interview, Daniels apparently told In Touch that she and Trump "had really good banter." She went on to explain, "He told me once that I was someone to be reckoned with, beautiful, smart, just like his daughter."
Elite Daily has reached out to the White House for comment on the veracity of that quote and did not receive a response at time of publication.
Some people on the internet did not find that alleged quote particularly heartwarming.
In Touch's excerpts so far are all just about as cringe-inducing as that little detail. Daniels reportedly told the magazine that she met Trump at a celebrity golf tournament and later had sex with Trump in a hotel suite in Lake Tahoe, Nevada, in 2006. (For reference, that would have been a few months after Melania Trump gave birth to Barron. Melania and Donald were married at that point.)
Daniels reportedly said he invited her to dinner, and when she went to meet him at his hotel room, he was on the couch watching television and wearing pajamas. They had dinner in the room, and eventually Daniels went to the bathroom. "When I came out, he was sitting on the bed and he was like, 'Come here.' And I was like, 'Ugh, here we go.' And we started kissing," Daniels claimed, according to In Touch. The magazine also quotes Daniels as having said that the alleged sex with Trump "was textbook generic."
This is not the first time that these rumors have bubbled up. It was all boiling in fall 2016, right before the presidential election. Stories about an alleged affair between Daniels and Trump were reportedly being chased down by Slate, The Daily Beast, and Fox News. According to CNN, Fox News had a story about Daniels and Trump ready to go live in October 2016, but the network scrapped it. This was around the same time, according to The Wall Street Journal, that Cohen allegedly paid Daniels to stay quiet.
"Like many other outlets, we were working to report the story of Stephanie Clifford's account in October 2016 about then-Presidential candidate Donald Trump and a possible payment by Trump lawyer Michael Cohen. In doing our due diligence, we were unable to verify all of the facts and publish a story," Fox News digital editor-in-chief and vice president Noah Kotch told CNN in a statement.
And thus, here we are, reading about our president's alleged sexual preferences.
Great.