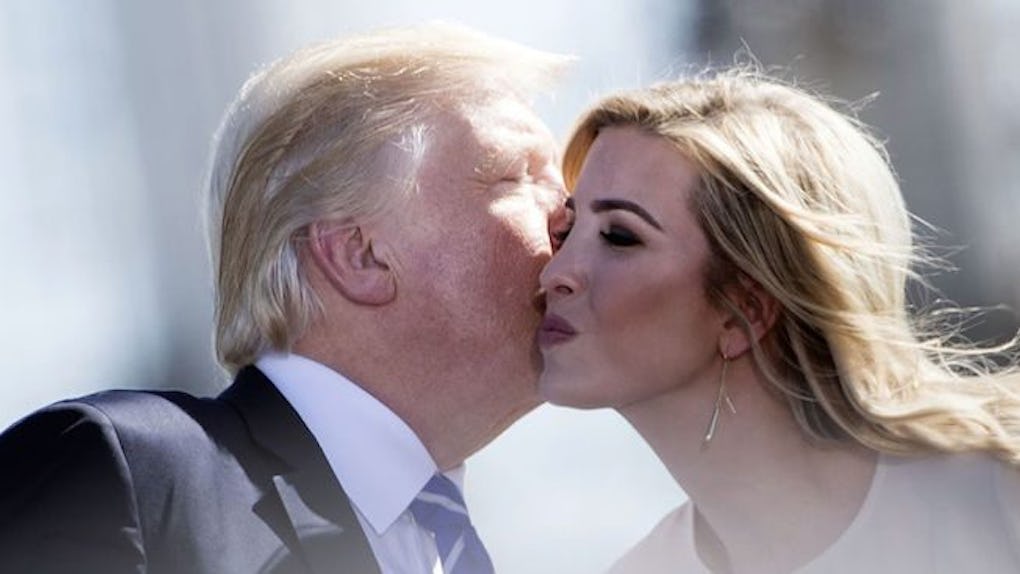 BRENDAN SMIALOWSKI/AFP/Getty Images
Video Of Ivanka Trump Joining Donald Onstage In North Dakota Is Pretty Weird
During a speech about tax reform in North Dakota on Wednesday, Sept. 6, President Donald Trump decided to invite his daughter, Ivanka, onstage to give the crowd a wave. Video of Ivanka joining Donald Trump onstage during the speech shows it's kind of an awkward moment, given the criticism the Trumps have received with Donald in the White House. It all went down in front of cameras, most of which broadcasted on cable news stations, so we got to see the moment fully.
President Trump was in North Dakota to talk about his plan for tax reform. Because, yes, amid two historic natural disasters, Trump has decided to take on tax reform -- in addition to his criticized work on immigration this week. The speech was at an oil refinery in Mandan, North Dakota, and was all about getting Congress to pass a bipartisan bill on tax reform, according to Fox News. Trump's desired tax plan includes cutting the top corporate tax rate, according to Politico, which not a lot of people are pleased about.
Ivanka Trump, meanwhile, is pushing for some tax reform ideas of her own. She is lobbying for an increase in the child tax credit, Politico reports, a plan shared by Senator Marco Rubio, whose office is working with her in her efforts.
And so Ivanka Trump showed up in North Dakota during the older Trump's speech. In between talking about "[getting] rid of red tape" and "refocusing the EPA [Environmental Protection Agency]," according to CBS, President Trump addressed Ivanka Trump.
"Come up, honey," President Trump says into the microphone. "Should I bring Ivanka up? Come on."
As she walks, Trump mentions that people say he "can't be that bad of a guy -- look at Ivanka."
"Come on up, honey," the president again says into the microphone about his 35-year-old daughter. Trump explains that it was her idea to come to North Dakota and join him at the speech.
"She said, 'Dad, can I go with you?' She actually said, 'Daddy, can I go with you?' I like that. 'Daddy, can I go with you?' I said, 'Yes, you can,'" Trump narrates. You can see it all in the video:
Ivanka makes it onto the stage and goes up to the mic, greeting the crowd with a chuckle. As she's walking off the stage after a giving a brief thanks to North Dakota, her father grabs her hand and gives her a kiss on the cheek. It's all Very Normal, Don't Worry About It, Nobody Was Weirded Out.
The Trump family has faced a lot of criticism for their actions since Donald moved into the White House, including that Ivanka and her husband, Jared Kushner, are far too involved in politics, earning calls of nepotism.
The president also faced criticism for referring to Don Jr., his 39-year-old son, as "a good boy" after news came out about his controversial 2016 meeting with a Russian lawyer. Many felt that Trump was infantilizing his son so as to grant him a visage of innocence -- a privilege he does not grant, say, 16-year-olds who were brought to America as undocumented immigrants when they were babies.
Between those two ideas -- that President Trump's family is too involved in his job and that he privileges treatment of his children -- bringing Ivanka onstage was, perhaps, questionable. Not to mention, um, that whole "daddy" thing. It's fine. It's fine!