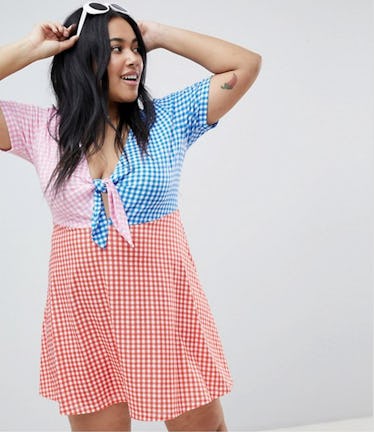 This Summer's Dress Trends Are In & You Won't Even Need Accessories To Look Chic AF
ASOS
I know that springtime only arrived a little over three weeks ago but honestly, my mind is already thinking of the sunniest season of the year. Why? Because of the fashion. Summer 2018 dresses are looking to be cool AF, so even though I'm partial to the whole florals for spring trend that (thankfully) is relevant every year, florals for summer just might have a leg up this time around.
Yes, spring dressing is awesome in that it allows you to integrate items from each seasonal wardrobe into your looks. Your favorite fall leather jacket and heeled winter booties can be paired with lighter and brighter items to craft an outfit that's perfect for chillier mornings and sun-soaked afternoons alike, and I won't deny that going through an entire day without subjecting your clothing to sweat (have you ever spent a summer in New York City?!) is quite nice, indeed. But the dress trends are so good this year that the last thing I want to do is cover them up with a light jacket or knit jumper.
From gingham 2.0 and yes, incredible florals, to cool girl wrap dresses and ruffles abound, there's so much goodness to explore when it comes to your summer shopping spree. Here are eight of the coolest dresses I've found on the market so far, so get ready to kiss your tights and scarves and jean jackets behind because trust me, you'll want them to shine all on their own.
Sunny Side Up
Forget mellow yellow. This summer, it's about in-your-face variations of the hue, preferably in head-to-toe form. This ribbed maxi dress features subtly contrasting shades that allow its knit design to shine. Perfect for brunch, birthdays, and beyond, it's the ultimate chameleon of a dress.
V. Into It
If you love athleisure-inspired clothing, this dress is for you. With its sporty neckline and ruffled hem, it's the perfect balance of trends. The best part? It pairs best with sneakers.
Love Spell
If Lucy Ricardo was alive today, I think she would fall in love with this heart print dress. It's ruffled neckline and retro print give it a flirty, feminine appeal. Ideal wedding attire? I think so.
Top Pick
I love this retro-inspired dress for it's cool pattern and subtle ruffle detailing. The color scheme is so bold but the fruit motifs soften it — so rad.
Press Paws
Anything that I can wear my Vans Old Skools with is something I want to own. Simple, comfy, and edgy, this dress is every '90s enthusiast's dream.
Garden Party
This wispy floral dress has a beautifully ethereal quality to it and is the stuff that the woodland fairies of my dreams would wear. I love its ruffled tie sleeves, delicate buttons, and flowy silhouette, and would pair it with dusty pink sandals and a dewy complexion.
Oh, La La
Ahhh, I love this dress SO much. Leave it to Zara to release the ultimate summer collection (you should go have a look at their site now, trust me). Its two-tone, color blocked design makes it super bold, graphic, and simple. It's the kind of dress you could wear with sneakers and a top knot or red lips and strappy sandals, alike.
Spotty Coverage
This is one dress that New York City summer heat would have no chance against, thanks to its light, sating fabric and generous cutouts. Subtly sexy and obviously cool, it's a good option to keep in your closet.
Check, Mate
Tri-tone gingham with a cool tie detail? Yes, please! I love the bright, colorful palette and simple skater silhouette of this dress.