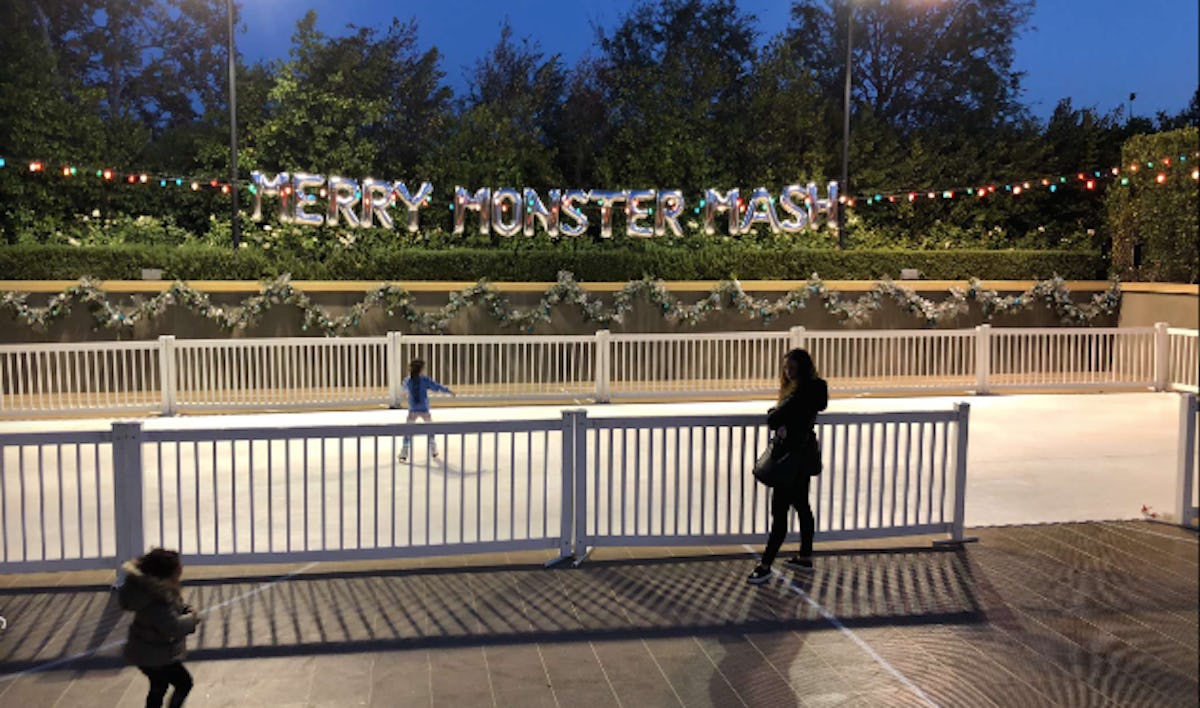 Saint West & Reign Disick Had A Joint Birthday Party & The Pictures Look Amazing
Saint West and Reign Disick are probably going to grow up best friends. The two Kardashian kiddos are celebrating their second and third birthdays this month, and to celebrate, Kim Kardashian West and Kourtney Kardashian threw them an epic monster-themed birthday party. And the photos of Saint West and Reign Disick's joint birthday party prove this birthday party was absolutely epic. Saint West is turning 2 years old this Tuesday, Dec. 5, and Reign Disick is turning 3 on Thursday, Dec. 14. Their monster/holiday-themed birthday party came complete with an ice rink, Monsters Inc. birthday cakes, and a Santa Claus for the kids to take pictures with. Kim Kardashian West and Kourtney Kardashian documented the party on their Snapchat and Instagram stories, and it's the cutest thing you'll see all day.
Kim K posted a photo of what looked like her, Kanye West, North, and Saint all wearing the same Yeezy sneakers and sweats, and it's absolutely adorable. Kourtney Kardashian posted a video of what looked like Reign Disick running around the faux ice rink dressed as Sully from Monsters Inc., and I'm honestly just upset I missed all of this.
They did the mash! It was a ~backyard smash~. I am sorry.
These are the cutest freakin' birthday cakes I've ever seen. *In Boo voice* "Mike Wazowski! Kitty!"
It honestly took me a while to notice Santa in the background of this.
Is this Saint West and Reign Disick's birthday party, or the set of The Ultimate Christmas Present, one of Disney Channel's greatest original movies of all time?
Kanye, North, and Saint West all seemed to be wearing matching outfits, and my heart is bursting.
Kourtney Kardashian posted photos of Reign Disick dressed as Sully from Monsters Inc. on her Instagram story, and it's just so pure.
The last big party Kim Kardashian West threw was a cherry blossom-filled baby shower to celebrate the upcoming arrival of her and Kayne West's third child, a baby girl arriving "before Christmas" via surrogate. Though they haven't revealed a name for the baby or exactly what day she's due, Kim did confirm on The Ellen Show that the baby is a girl and North is super excited to be welcoming a baby sister soon. Kardashian told DeGeneres,
My daughter, she's really tricky. We had a baby shower over the weekend, and I thought: 'I really do want a baby shower because I want her to feel that something's coming, and I really want her to understand.' People brought toys and gifts [to the shower], and we were opening them all up the next day and North said, 'Mom, since baby sister's not here, I think I need all of her toys in my room and I'll play with them and just make sure they're OK for baby sister.'
DeGeneres was quick to call out the fact that Kardashian had just revealed the gender of the baby. She said, "She's a toy tester, and you just told us it's a girl!" Kardashian laughed in an "LOL f*ck" kind of way before saying, "Oh, yes. It is. It is a girl." When it comes to how Saint feels about the new baby, Kardashian said,
I don't know if my son gets it yet, especially since I don't have the belly, it is a different experience. So I said to my sisters, 'Would I be really creepy if I just had someone dress up as a big stork and drop the baby off at the front door?'
Oh, Kim, you think of the darnedest things. DeGeneres shot that down real quick, saying, "You're gonna mess him up real bad. No, don't do that." Kardashian went on to explain how she has been prepping North for the arrival of her baby sister, saying,
North is really excited about [having a sister]. [Having] a brother was a little trickier. Now, she's so excited. Let's see if it lasts. I've had to explain to her: 'OK, 4 in the morning when you come into my room, I have to be with baby sister. I have to feed her.'
According to Us Weekly, a source said, "Kim's surrogate is due before Christmas." Welp, they really didn't beat around the bush there! That means Kardashian West baby number three could arrive any day now, so keep on refreshing Twitter, fam. We're officially on baby watch!