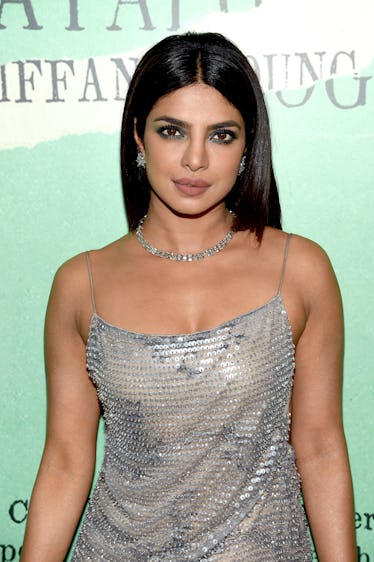 Priyanka Chopra Just Shared Photos From Her Bridal Shower, So The Big Day Must Be Close
Dimitrios Kambouris/Getty Images Entertainment/Getty Images
Ariana Grande and Pete Davidson might be dunzo, but thank the lord we still have Priyanka Chopra and Nick Jonas. Because these two are legit killing it as an A-list power couple headed for the altar, and their entire relationship is just a total vibe. I know, I know, we still don't know when they're getting married for sure, though it could possibly happen in December, according to the rumor mill. But something tells me it's kinda soon, since the photos of Priyanka Chopra's bridal shower are here — and they're spectacular.
The party took place on Oct. 28 at the Blue Box Cafe inside the Tiffany & Co. flagship store in Midtown Manhattan — which, if you'll recall, is the very same place Jonas shut down back in July in order to purchase Chopra's ginormous engagement ring. So it's all just super sentimental, and I am not jealous at all.
Meanwhile, the Quantico star looked like a total queen in her all-white, body-skimming Marchesa gown, which featured a whole bunch of amazing statement ostrich feathers at the bottom. You kind of need to see a picture of this thing because words simply cannot do it justice, so here you go:
It's just incredible, right? And you know what I love about Chopra? That she was confident enough to also share a pre-glam "before" shot — or more like a "during" shot? — of herself on her Instagram story earlier that day.
"My girls r in town!" she captioned the pic, which showed her friends Divya Sarkisian and Priyam Mathur standing behind her as she got her hair did while sitting at a table littered with makeup brushes and fake lashes:
What a squad!
Meanwhile, according to Us Weekly, the shower featured a DJ spinning Bollywood tunes, and was thrown by Chopra's bridesmaids, Mubina Rattonsey and Anjula Acharia, who reportedly both gave speeches during the party in order to honor their beautiful friend. Oh, and the guests (Kelly Ripa was supposedly there, as was Lupita Nyong'o, and future sister-in-law Danielle Jonas) all took home Tiffany swag bags at the end of the day that reportedly had bottles of champagne inside.
Again, totally not jealous.
A source told Us Weekly earlier this month that the nuptials are going take place sooner rather than later.
"The wedding is happening in India in December," the insider said. Elite Daily reached out to both Jonas and Chopra's teams for comment on the report at the time, but did not hear back by the time of publication.
For the record, I personally think a winter wedding for these two would be so dope! I mean, what better way to start off 2019 than as a married couple, right?
But no matter what season these two decided to get hitched, one thing is clear: Chopra is going to be one seriously stunning bride. I mean, if girlfriend looks this hawt at her shower, I can't even begin to imagine how incredible she's gonna look when she finally struts down that aisle.