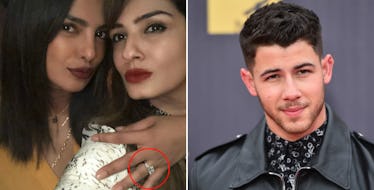 You Won't Believe How Much Nick Jonas Reportedly Spent On Priyanka Chopra's Engagement Ring
Instagram/officialraveenatandon; Rodriguez/Getty Images
Bling, bling, Priyanka Chopra's got the (massively gorgeous) ring! While we've yet to see any "I said yes!" photos gracing the Quantico actress' Instagram, we did recently get a glimpse of the enormous rock that's hangin' around on Chopra's left ring finger. She hasn't yet officially confirmed her engagement to Nick Jonas, but a selfie snapped with actress Raveena Tandon shows off Priyanka Chopra's reported engagement ring, and you guys, it's absurdly stunning. And big. So very, very, big. If you've seen the picture of the ring, then I already know the first question that's come to your mind: How much did Priyanka Chopra's engagement ring cost? Is it more expensive than a car? A house? Tons of avocado toast? When you hear the price tag, your jaw is probably going to drop.
On Tuesday, Aug. 14, we got to see the reported engagement ring in all of its glory. After news of Chopra's engagement to Jonas broke in July, E! News reported that the 25-year-old singer shut down an entire Tiffany's store to find the perfect rock for his lady, and a source said that the pair were "so happy." And let's be honest, with a ring as stunning as this one, how could a girl NOT be happy?
DO YOU SEE THAT SHINE? Of course you do.
So, real talk: How much does a rock like that even go for?
According to Andrew Brown, President of WP Diamonds, it's certainly not cheap. The jeweler pro told E! News, "Priyanka's ring is a high quality cushion cut weighing around 4 carats," adding that "it looks to be somewhere around a G color, VS1 clarity which, from Tiffany & Co, would have a value of around $200,000." Elite Daily reached out to Jonas' team to confirm Brown's assessment, but did not hear back by the time of publication.
But, please, stop the train. Hold the phone. WAIT A DAMN MINUTE, PLEASE.
That's a whole lotta cash to spend on something that just sits on someone's finger... but clearly, Priyanka Chopra is totally worth it in Nick Jonas' eyes, which I find totally adorable.
The couple has been keeping the lid shut pretty tightly with this whole engagement thing, but Nick Jonas may have confirmed the engagement in his own way during an event that celebrated the launch of his new John Varvatos fragrance. On Aug. 8., Jonas attended the event solo (Chopra was reportedly in Mumbai), and, according to an eyewitness, a fellow event-goer congratulated Jonas on his recent engagement. According to Us Weekly, Jonas responded with a simple, "Thanks, man," but hey, that's all I really need to start celebrating. Elite Daily reached out to Jonas and Chopra's teams previously for comment on the report, but did not hear back by the time of publication.
First comes love, then comes marriage — then comes Chopra-Jonas babies, I'm hoping. And apparently, Nick Jonas wants to have kids in the future, so maybe my wish will be granted sooner than later.
In an interview with Cosmopolitan while promoting his fragrance, Jonas said that, while he's not completely "sure of the exact timeline," he does want to give his "nieces cousins at some point."
"[Having a family of my own] is the goal," he said, adding, "It's definitely something that I hope will happen."
You and me both, Nick. You and me, both.
So I guess congratulations are in order — for Nick, for Priyanka, and for that mesmerizingly sparkly ring on Priyanka's finger. We're all so proud of each and every one of you.