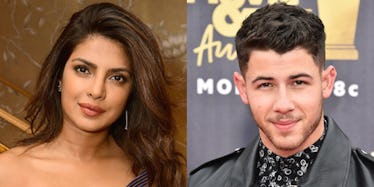 The First Photo Of Priyanka Chopra's Reported Engagement Ring Will Make Your Jaw Drop
Emma McIntyre/Alberto E. Rodriguez/Getty Images
Priyanka Chopra might've just confirmed her reported engagement to Nick Jonas, guys. The actress was at a party with friends on Aug. 14 when actress Raveena Tandon starting snapping selfies with people at the party and posting them to her Instagram story. One pair of selfies with Chopra were posted to her Instagram grid, and we couldn't help but notice the massive rock just chilling on Chopra's ring finger. Yup, the first photo of Priyanka Chopra's reported engagement ring is here and it's a stunner. Elite Daily reached out to Chopra's team for comment on the reported ring, but did not hear back by the time of publication.
Jonas reportedly proposed to Chopra on her 36th birthday on July 18 in London. The youngest of the Jonas Brothers trio reportedly proposed with a Tiffany's diamond and shut down the store so he could shop for the ring solo. (Sweet Home Alabama, anyone?) When you get engaged so quickly, though (they were dating for less than a year before deciding to get hitched), there's not much time to squeeze in meeting the family, especially when you're Chopra and Jonas and are working literally all the time. So, The Daily Mail reports that the couple is reportedly having an engagement party in Mumbai this weekend and that's when their families will meet.
A source told PEOPLE earlier this week that the Chopra and Jonas families are reportedly traveling to Mumbai this week so they can all meet for the first time. Another source told Daily Mail that this meetup is actually going to coincide with an engagement party. "Priyanka has sent out messages to close friends and family members to set aside time on Aug. 18 for a party," the source said. "It's exactly a month after her birthday and those close to the Quantico actress feel that she may make an official announcement about her relationship status at the bash."
Will she show off her engagement ring at this party?! I mean, probably. Just LOOK at this thing!
*Increases magnification*. Yup. That definitely looks like an engagement ring to me.
Fans are so excited they finally get to see the reported ring.
The tweets reacting to Nick Jonas being engaged are still the best tweets to come out of this whole thing, though.
There's one fan theory in particular about why celebrity couples are getting engaged so fast in 2018, and it's honestly pretty legit.
One Twitter user tweeted on July 27, "A theory that's been shared with me and I agree with is that all these celebs are rushing to get married because they have insider info that the world is ending and they want a spot on the bunkers to survive the apocalypse." That sounds crazy enough to be true, doesn't it? It's a very confusing time to be observing the lives of celebrities. What do they know?!
Hey, if the apocalypse is nigh, I don't blame these celebrities for being like, "We've been dating for three minutes and the world is ending in five. Might as well get married!"