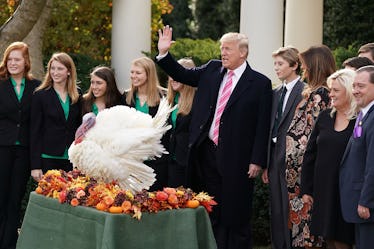 Everyone's Talking About Melania Trump's Standout Coat At This Year's Turkey Pardon
Chip Somodevilla/Getty Images News/Getty Images
Happy Holidays, everyone! Hopefully the days leading up to Thanksgiving have been overflowing with holiday cheer (and all things pumpkin spice-flavored). Meanwhile, there's a lot of fun going on over at the White House, too. On Tuesday, Nov. 20, the White House held its annual turkey pardoning, opening the president's home to people from all around the country. Of course, there was no shortage of weird moments — and, maybe in a more surprising twist, odd fashion choices. The photos of Melania Trump's coat at the 2018 turkey pardon, specifically, might even make you cringe.
The tradition of presenting a turkey to the president dates back roughly 150 years, and is hands-down one of the most bizarre Thanksgiving traditions known to man. And it seemingly gets even more strange with every year of Donald Trump's presidency. But this time, it's his wife shaking things up.
On Tuesday afternoon, the first lady accompanied President Donald Trump to host the longstanding tradition outside of the White House. While many people were tuned in to the president's address, others were focused on Melania Trump's, um, interesting fashion choice. She sported an oversized brown coat by Dior that featured black, white, and bright red patterns — except it totally looks like a turkey costume. That's at least what people in the Twitterverse are saying. And to others, it's a coat she probably should've given a second thought about wearing (and/or thrown away). Either way, the roasts are flying out in heaps.
2017's turkey pardon event was just as memorable — and again, for all the wrong reasons. Aside from the adorable photos of first daughter Tiffany Trump meeting the turkeys, all you-know-what basically broke loose, starting with a poll the Trump administration released on Nov. 20, 2017, asking civilians to choose one turkey for pardoning day. Though there were endless responses, they weren't exactly what the administration was hoping for.
Then the awkwardness hit an all-time high the following day, Nov. 21, 2017, when Donald made an awkward joke about President Barack Obama. Before pardoning two turkeys, he announced that they would be joining 2017 turkeys Tater and Tot, pardoned by his predecessor, in their long-term habitat at "Gobbler's Rest" on the Virginia Tech campus. Then President Trump went in with a Thanksgiving-themed joke about Obama, saying:
As many of you know, I have been very active in overturning a number of executive actions by my predecessor. However, I have been informed by the White House Council's office that Tater and Tot's pardons cannot under any circumstances be revoked. So we're not gonna revoke them. So Tater and Tot, you can rest easy.
America's collective response:
Before Donald, the pardoning ceremony had widely been known for its embarrassing dad jokes and other festive moments, but when it comes to this administration... well, you never know what you're going to get.
Let's see (and brace ourselves for) what happens when the 2019 event rolls around. If the past is any indication, there won't be any shortage of strange moments, whether it involves him or his wife, and you won't want to miss them.
More to come.