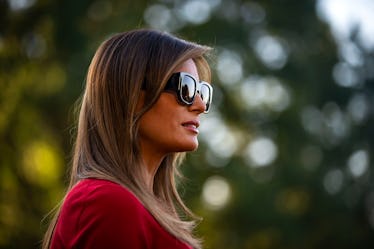 Melania Trump Called For The Firing Of An Aide, So I Guess Donald Is Rubbing Off
Al Drago/Getty Images News/Getty Images
When it comes to White House firings, it's usually President Donald Trump handing out the pink slips. But times are apparently starting to change. This time, it's the first lady who's trying to push someone out of their post. Melania Trump wants to fire Mira Ricardel, and similar to the many cases of her husband, the reason is so petty. Elite Daily reached out to representatives of the first lady for further comment, but did not hear back by the time of publication.
On Tuesday, Nov. 13, Trump's office took an extraordinary step by issuing a statement pushing for the ousting of Ricardel, who is the top deputy to national security adviser John Bolton. "It is the position of the Office of the First Lady that [Ricardel] no longer deserves the honor of serving in this White House," the first lady's spokesperson Stephanie Grisham said in a statement shared with The Hill. Elite Daily reached out to Grisham for comment on the stinging statement and the circumstances that led to it, but did not immediately receive a reply. According to The Wall Street Journal, President Donald Trump has chosen to adhere to the first lady's request and fire Ricardel from her position, but a White House official told Elite Daily that Ricardel was still in the White House as of Wednesday morning. The White House did not immediately respond to Elite Daily's request for confirmation or denial of Ricardel's potential firing.
Although the reason behind the call for Ricardel's firing are unclear, sources have attributed it to Ricardel's involvement of Trump's Africa trip back in October. A source told CNN that Ricardel had a dispute with the first lady's staff over seating on the plane and requests to use National Security Council resources. The tensions reportedly rose further after Ricardel was allegedly dishonest about the quarrel and subsequently spread false stories about the incident to minimize and cover her behavior. Elite Daily reached out to the White House for further comment on the reported incident, but did not hear back by the time of publication.
But the drama was apparently in full swing much before that. Ricardel previously feuded with Defense Secretary Jim Mattis repeatedly, often attempting to block him from hiring certain people, according to The New York Times. She reportedly rejected more than a dozen candidates for the role as under secretary of defense for policy. She'd also reportedly been involved in rifts with Chief of Staff John Kelly and his deputy Zach Fuentes in recent weeks, according to CNN. Ricardel, they say, was leaking negative stories about them to the press. "[She] liked to pick fights with a lot of different folks," a source told the outlet of Ricardel's alleged behavior. The White House did not immediately respond to Elite Daily's questions on the subject. The reports of trouble on the Africa trip just seems to be the last straw.
Still, it's extremely unusual for first ladies to get involved in staffing decisions. But when they have, it's often spelled bad news for those involved. As The Los Angeles Times points out, such was the case in 1987, when President Ronald Reagan fired Chief of Staff Donald Regan after he clashed with first lady Nancy Reagan.
The moment comes just over a month after Trump said she didn't trust White House staffers, so it looks like she's taking a page out of her husband's book and is doing something about it. President Trump followed up on her comments in an appearance on Fox & Friends, saying, "We'll weed [the staffers] out slowly but surely," per The Washington Examiner.
Translation: this is just the beginning. Keep your eyes peeled for who's next on the chopping block.