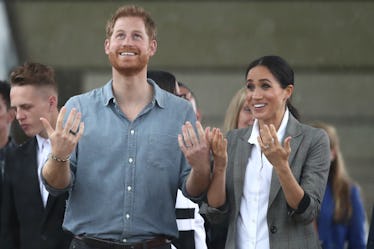 Meghan & Harry Cuddled Under An Umbrella In The Rain Because Their Life Is A Romance Movie
Cameron Spencer/Getty Images Entertainment/Getty Images
I'd say we should make a movie out of Prince Harry and Meghan Markle's love story but it's already playing out in real life. The Duke and Duchess of Sussex are currently traveling on their first tour together as husband and wife and, so far, their trip is full of cinematic moments. Most recently, they got caught in the rain in Australia and the truth is fans couldn't have written a more romantic moment. The photos of Meghan and Harry cuddling under an umbrella are straight out of a fairy tale love story and make me want to puke hearts and flowers. It's the best.
Harry and Meghan kicked off their four-country trip in Australia but will be visiting New Zealand, Fiji, and Tonga, too. The big journey started just as they announced their pregnancy to the world. In fact, Harry gave an adorable speech at an Australian engagement where he specifically mentioned he couldn't think of a better place to announce, "Uh, the upcoming baby, be it a boy or girl." His words, not mine. Apparently, Meghan also baked banana bread for everyone somewhere in between being pregnant, all of her engagements and appearances, and adjusting to the Down Under time zone.
It's, like, get real.
Then, during one of Harry's outdoor speeches in the city of Dubbo, it started to rain. Rather than take a rain check (Ha. Ha.) or scurry into a nearby building, Meghan simply popped open an umbrella and held it over her hubby. The photos of Meghan and Harry snuggling under an umbrella while Australian rain spills down around them are too much. Too much, I say!
Look at these pics.
Here they are being like, "Uh oh! Hehe! It's going to rain!"
Here's Meghan being like, "Don't worry, babe. We have an umbrella!"
Here's Meghan lovingly holding the umbrella over Harry's head while he continues his talk.
Here is a picture of Harry loving it.
Here they are just being seriously the most romantic, stunning, gorgeous, rom-com couple that ever existed.
Like, for real.
While some royal fans were concerned about Meghan embarking on such an extensive trip while pregnant, reports state she and Harry consulted with health care professionals before leaving the UK. According to reports, she is right around the 12-week mark in her pregnancy.
Kensington Palace announced the good news after Princess Eugenie's big wedding to Jack Brooksbank in mid-October. Close family and friends were able to congratulate Meghan and Harry in person over the wedding festivities and the Palace confirmed the details on Twitter the morning of Monday, Oct. 15. The Palace tweeted, "Their Royal Highnesses The Duke and Duchess of Sussex are very pleased to announce that The Duchess of Sussex is expecting a baby in the Spring of 2019." Then added,
Their Royal Highnesses have appreciated all of the support they have received from people around the world since their wedding in May and are delighted to be able to share this happy news with the public.
Based on these amazing photos, I think they should name their kid Reign! Get it? Rain like the water from the sky but also Reign as in "reign over a kingdom?!"
Damn. I'm good at this.