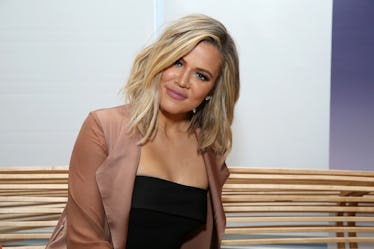 Khloé Kardashian's Baby Shower Was So Extra & I Can't Look Away From These Pics
Cindy Ord/Getty Images Entertainment/Getty Images
Khloé Kardashian doesn't do anything by halves. The younger Kardashian sister just threw the baby shower of all baby showers on Saturday, March 10 to celebrate her first child with boyfriend Tristan Thompson. It was a pink wonderland of lights, dangling flowers, balloons, and elephants. Seriously, just look at these photos of Khloé Kardashian's baby shower. It's giving me a lot of decorating #goals.
The kid might not be born yet, but Kardashian did not hold back for "Baby Thompson's" first bash. From what I can gleam the theme seems to be "Elephants Abound In the Pink Forest." Am I close? Either that or "Extra And You Know It."
The baby shower was held at Hotel Bel-Air in Los Angeles and sponsored by Amazon Baby Registry, according to People. A source told People that the event was really lavish and beautiful. The source said,
The shower was very over-the-top, but absolutely stunning. It was like a pink dream. There were pink flowers, including roses, everywhere! As guests entered the ballroom, they were greeted by gorgeous, hanging flower decorations. There were lots and lots of pink balloons. Pink lights also gave the shower a very romantic feeling.
Thankfully for those of us who weren't there, the Kardashian-Jenner family isn't shy about sharing on social media. The whole family posted photos and videos on Snapchat and Instagram.
Honestly, no words can do it justice.
I am just drooling over these photos. First, just look at this neon sign for "Baby Thompson."
Then we move onto what appears to be a ball pit of pink balloons in middle of all the tables.
For your viewing pleasure while you eat, I guess. But also, because, why not?
Here's another angle, so we can have those dangling flowers in the shot.
This is the extra jungle and we're just living in it. Scratch that. I mean, admiring it from afar with envy.
Oh, and if that wasn't enough, here's a giant elephant made of, I wanna say moss (?), in a garden of pink roses and balloons.
Careful, elephant, don't pop those balloons. I'm sure they're filled with the most premium helium money can buy.
A source also told People that Grandma-to-be Kris Jenner was on hand to give a touching speech and express her excitement about the upcoming newest member of the family Kardashian-Jenner. "Kris thanked everyone for joining them. She expressed how proud and excited she is for Khloé," the source said.
Thankfully, Kris, along with the rest of us, doesn't have that much longer to wait. Kardashian is reportedly due in March, so we should be expecting the news any day now.
In September 2017, Us Weekly reported that Kardashian and Thompson were expecting a child. However, the couple didn't confirm the report at the time. But then on Dec. 20, Kardashian confirmed the baby news with an Instagram post. She uploaded a photo of her baby bump with a caption gushing about how excited she was to finally be expecting her first child. She also took the time to thank boyfriend and dad-to-be Tristan Thompson for treating her so well. She wrote,
My greatest dream realized! We are having a baby! I had been waiting and wondering but God had a plan all along. He knew what He was doing. I simply had to trust in Him and be patient. I still at times can't believe that our love created life! Tristan, thank you for loving me the way that you do! Thank you for treating me like a Queen! Thank you for making me feel beautiful at all stages! Tristan, most of all, Thank you for making me a MOMMY!!! ... I know we've been keeping this quiet but we wanted to enjoy this between our family and close friends as long as we could privately. To enjoy our first precious moments just us[.] Thank you all for understanding. I am so thankful, excited, nervous, eager, overjoyed and scared all in one! But it's the best bundle of feelings I've ever felt in my life!
Congratulations Kardashian! Here is a list of things your fans will be eagerly awaiting in the coming weeks/months: fabulous baby name, baby's first glam shot, baby's first family glam shot, and baby's first designer anything. Please and thank you in advance.