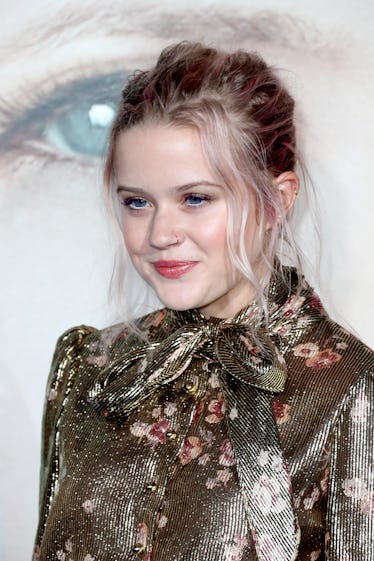 Ava Phillippe Just Made A Major Hair Change & She's Never Looked More Like Reese Witherspoon
Frederick M. Brown/Getty Images Entertainment/Getty Images
A buzzy new celebrity bob has hit a major red carpet, and despite only being a day old, it feels uncannily familiar. Photos of Ava Phillippe's haircut will have you flashing back to the '90s, when Phillippe's mom and total doppelganger Reese Witherspoon rocked the exact same crop in some of her biggest hits, rendering this one of the coolest "like-mother, like-daughter" moments in Hollywood history.
Last night, Philippe joined Witherspoon at the London premier of A Wrinkle in Time. Witherspoon stars in the film alongside Storm Reid, Oprah Winfrey, Mindy Kaling, Rowan Blanchard, Chris Pine, and many more notable talents, so to say the night was a star-studded affair would be an understatement. Witherspoon opted for a powder blue long sleeve dress by Elie Saab, while Phillippe stepped out in a black dress by RED Valentino that was embroidered with sparkly red hearts and featured a tiered skirt. Both of them completely stunned, but Phillippe's new haircut earned her an extra head turn or two.
While the 18 year-old is no stranger to mixing up her hairstyle, this new cut was one of her most major ones yet. In 2015, she dyed her hair a beautiful dusty pink color and added in blue and green at the tips in 2016 before returning to her blonde roots. Despite her experimentation with playful colors, her style has largely remained the same over the years — beachy waves that reach past the shoulders. Needless to say, when she arrived to the movie premier sporting an uber sleek bob, it was a huge change.
But if you feel like you've seen her with it before, don't worry, you're not going crazy. Witherspoon had a nearly identical cut in the '90s when she starred in movies including Cruel Intentions and Pleasantvile and considering Phillippe is her mini me, radical deja vu is understandable. Whether or not Phillippe was inspired to try out the trend by her mom will remain a mystery, but she's certainly brought a whole new meaning to mom cuts. According to Refinery 29, Phillippe posted to her Instagram stories that London-based salon The Chapel is to thank for her beauty transformation.
The blunt bob is having a major moment right now — Saoirse Ronan debuted her own short crop at the Oscars — so considering Phillippe is in-the-know when it comes to beauty and fashion, it's no surprise she took her own spin on the trend. Earlier this month, the teen attended Chanel's "We Love Coco" party in Los Angeles in celebration of the opening of the brand's new beauty house in Hollywood. Dressed in head-to-toe Chanel, she's clearly become a brand muse.
In January, she appeared in a STUNNING Rodarte campaign, which the brand referred to on Instagram as "FW18 Portrait Series: Women who inspire us." It featured game-changers with the likes of Kirsten Dunst, Chloe and Halle Bailey, Rowan Blanchard (Phillippe's pal), Tessa Mae Thompson, Grimes, and Gia Coppola, so she was in very, very impressive company. Dressed in a light pink tulle gown and delicate lace gloves, and with flowers in her hair and hands, she looks like the garden fairy of my dreams.
While it's unclear if Phillippe is aiming to pursue a career in fashion or beauty — she is only 18, after all, and is planning on attending college — it's easy to see why she's already a designer to some of the biggest brands and designers around. It wouldn't shock me one bit if Chanel tapped her to be the face of a new beauty launch and honestly, it would make me love the brand even more.