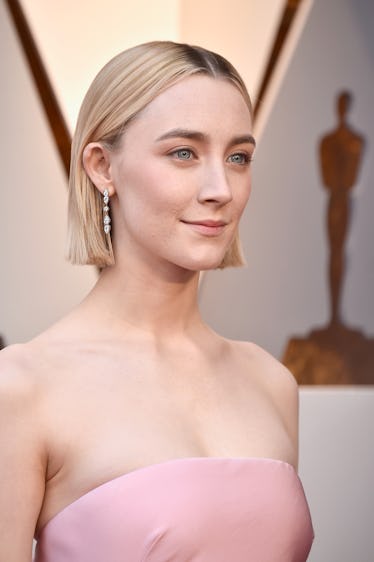 Saoirse Ronan Looks Like A Millennial Pink Dream At The Oscars & I Can't Deal
Frazer Harrison/Getty Images Entertainment/Getty Images
In light of her recent Golden Globes win for Best Actress, it was expected that the fiercely talented star of Lady Bird would bring her sartorial A-game for the final, and perhaps most paramount, award show of the season. She did, but it's better than you could have ever imagined. Saoirse Ronan's 2018 Oscars look is almost as worthy of a golden statuette, which is a very complimentary statement, considering its owner is in the running for Best Actress again tonight.
If you haven't seen Lady Bird yet, you absolutely need to. Yes, it remains one of the best-reviewed movie on Rotten Tomatoes, but it's exceptional for reasons far beyond its statistical standings. It's a beautifully raw and real coming-of-age film centered on a high school senior who insists on being called "Lady Bird" rather than her given name. It explores themes of identity, sexuality, and individualism, and it is guaranteed to resonate with basically every girl ever. While Ronan is partially to thank for Lady Bird's brilliant depth and genuineness (she devours the role), it's mostly creditable to the incredible woman who co-wrote and directed it, Greta Gerwig. The film is up for Best Picture tonight, and seeing as it's the only nomination directed by a woman, its win would be huge.
Considering it's such an important night for Ronan (and the whole cast and crew!) it makes sense she would go all out with her look for the big event this evening. And she certainly did not disappoint. Peep Ronan's beautiful look for the 2018 Oscars below:
Ronan opted for a bright, millennial pink Calvin Klein by Appointment gown, designed by Raf Simons, for the big night. Her hair is in a blunt bob and her makeup is barely there, showing off her natural beauty. Ronan's look was styled by Elizabeth Saltzman, who told WWD that the lighter color was a conscious choice:
What we didn't want to do is go dark. The whole thing was about lightness and light, and more timeless and fun. There needed to be an element of something special, but it really had to do with it focusing on Saoirse and it being modern, but iconic and timeless.
Ronan also wore pale pink pumps and Cartier jewelry, including slim drop earrings and a vintage cocktail ring from 1929.
Ronan's stylist Saltzman was originally (and ironically) looking to avoid pink for the big night, but in the end said that this dress "was just right," as the main goal was to avoid a dark dress. Saltzman commented on the ultimate decision for Ronan to wear pink,
I want this to be timeless. It needed to be about Saoirse, as a person. It's what girls are made of, and what women can wear. It's just so beautiful."
Perhaps the best part of this dress though is that the oversized bow is detachable! Saltzman says this is so Ronan "can party her ass off," hopefully after she wins.
Ronan has been killing the red carpet as of late, having stunned everyone at the 2018 SAG awards in a blush Louis Vuitton dress.
She also shined at the Critics Choice Awards in a glittery Michael Kors gown and a show-stopping bold lip. Her beauty looks have been exceptionally on-point, ranging from such a dark, plum lip paired with apricot-dusted eyes to a sleek platinum blonde coiffe with a pale cherry pout.
At the 2018 Golden Globes, she wore a black Versace gown with '80s-inspired shoulder pads (one of which was covered in silver rhinestones) and a fitted silhouette, as well as a dazzling pair of sapphire drop earrings. It was a stunner of a look that I thought would be hard to top, but tonight, she's done just that.
More to come...