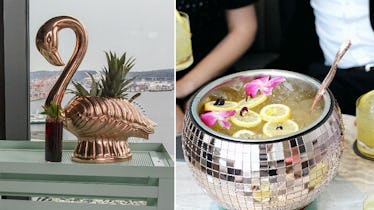 These Oversized Cocktails Will Make Your End-Of-Summer Instagrams Lit
I remember how excited I was when summer finally got here, and now, I'm low-key tearing up because it's almost over. If you feel the same, you're still clinging onto your precious beach days, summer sunsets, and lounging around with friends without a care in the world. As much as you don't want to say goodbye to your sweet summer, now's the time to start thinking of the best way to plan a proper send-off. Ordering one of these oversized cocktails for Instagram just might be the perfect idea.
I don't know about you, but I prepare to go out in style with one final rendezvous with my besties. The perfect setting is a rooftop bar with warm weather, great #views, and a giant drink to sip (if you're 21 or older). If you decide to hit up any of these four hotspots, you're sure to catch the sunset on another beautiful day with your squad while drinking a tasty cocktail that's truly Instagram #goals. The best part is that all of these drinks are oversized, so really, your entire crew can get in on the fun. Just don't forget to bring along your camera, because you'll want to get an epic pic of your group surrounding that huge drink.