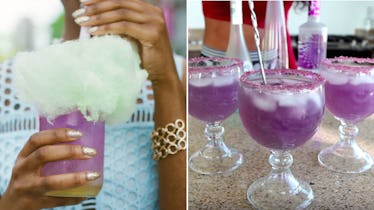 Millennial Lilac Boozy Drinks Are The Prettiest Things You'll Sip All Summer
Just imagine relaxing poolside on a sunny afternoon with a drink in hand. Now, imagine that drink is in the iconic millennial lilac color, and everything just got a whole lot dreamier. Sure, purple might not be the first color you think of when you're in that cocktail state of mind, but you'd be amazed at not only how beautiful some millennial lilac boozy drinks are, but how tasty they can be. With a beverage in hand, you'll be Instagram ready for your sunglasses selfie in no time, as you sip away on this vibrant drink.
If you're 21 and up, consider serving some purple drinks for your next pool party, backyard BBQ, or girls' night in with your squad. Millennial lilac is the color of the summer, after all, so you want to make sure it's invited to your party. Everyone will want to snap pics for the 'Gram holding up their lilac drinks, and you'll get all of the credit. Plus, there's a millennial lilac cocktail for basically every different type of liquor, so out of these eight recipes, you're sure to find something that catches your eye. Not only are these tasty, but they're also super easy to make. Pretty soon, you'll be known as the millennial lilac fairy, making everyone's boozy drink dreams come true.